This website is accessible to all versions of every browser. However, you are seeing this message because your browser does not support basic Web standards, and does not properly display the site's design details. Please consider upgrading to a more modern browser. (Learn More).

Blue Mountains

Bush Dance with Gang Gang Bush Band
7.30-10.30pm, Saturday August 13th, Wentworth Falls School of Arts Theatre.

Old Time & Bush Dance Friday 26 June 2015, Wentworth Falls
7.30-11.30pm, Friday June 26 2015

Family Bush Dance with Gang Gang Bush Band
7-10pm, Saturday 30th November

Family Bush Dance, Springwood
6-10pm, Sat 25th August, Springwood Civic Centre 106 Macquarie Rd

Blue Mountains Heritage Dancer Group
7.30-9.30 pm, Wednesdays, Wentworth Falls

Bush Dance for World Heritage Area with the Gang-gang Bush Orchestra
6pm, Sat 27th Nov 2010, Lawson

Blue Mountains Heritage Dancers
7-9pm, Wednesdays, Wentworth Falls

Bush Dance at Springwood
7pm, Saturday 27th September 2008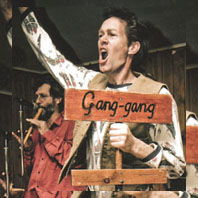 Heritage Hop Bush Dance
6-9pm, Saturday 16th August 2008

Bush Dance at Springwood
Saturday 20th August 2005