This website is accessible to all versions of every browser. However, you are seeing this message because your browser does not support basic Web standards, and does not properly display the site's design details. Please consider upgrading to a more modern browser. (Learn More).

You are here:
home > events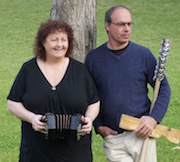 [In Sydney East/Inner]
Helen & Tony Romeo and Christina Mimmocchi share the bill @ the March Loaded Dog
8pm, doors open 7.40pm, Saturday 25th March, 2017

Solidarity Choir is turning 30 and you're invited!
1pm til late, Saturday 1st April 2017
[In Sydney East/Inner]

Edwina & Deko (Berlin) to Humph Hall
7pm, Friday 3rd March 2017
[In Sydney North]

Summer Hill Folk Festival
11am-late, Saturday 4th March 2017
[In Sydney West]

Ami Williamson at Sutherland Acoustic
7.30pm, Thursday 9th February 2017
[In Sydney South]

Chloe & Jason Roweth + MaD aDaM @ The April Loaded Dog
8PM, doors open 7.40pm, Saturday 29th April, 2017
[In Sydney East/Inner]

Equus, The Love Machine & Sako Dermenjian & The Groove at Fairlight Folk
7.30pm, Saturday 18th February 2017
[In Sydney North]
Also:
Fairlight Folk