20th Anniversary of Dave Alexander's death with Judy Pinder & the Roaring Forties at the Loaded Dog.

8PM, doors open 7.40pm, Saturday 19th August (3rd Saturday) 2017
By Sandra Nixon
Posted Saturday, March 11, 2017
Dave was born in Sydney on 28 December 1942. He began singing at the age of seven in the Great Synagogue Choir. He had his own rock band in the early 60s, and (in his own words) did 'some jazz, blues and a lot of folk'. He sang 'unaccompanied, basically because I couldn't find an instrument I wanted (to accompany)'.
After his sudden death in August 1997 friends put on benefit concerts to raise money for the CD he had planned to make.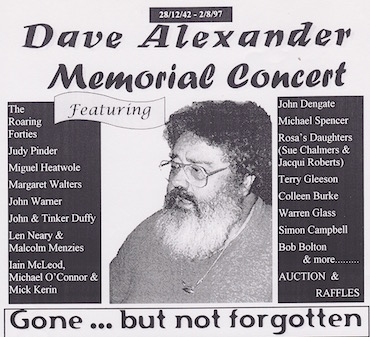 Join us for a night of unaccompanied singing in Dave's memory.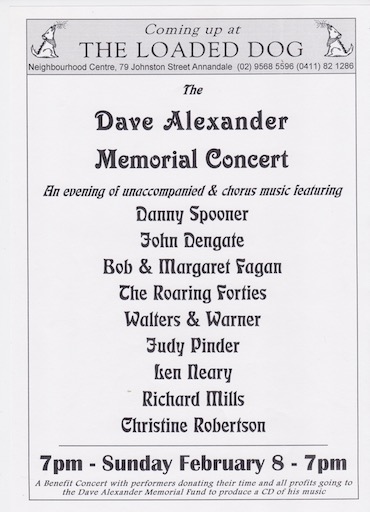 Photos - Bob Bolton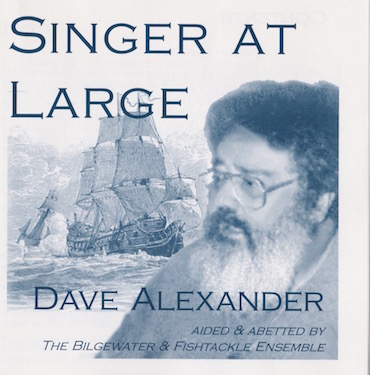 Posters - Loaded Dog archives
Loaded Dog, Back Hall,
Annandale Neighbourhood Centre,
79 Johnston St, 8pm (doors open 7.40pm)
$18/20, BYO, supper available.
enquiries Sandra (02) 9358 4886, www.theloadeddog.org.au