Heritage Hop Bush Dance

6-9pm, Saturday 16th August 2008
By Patrick Harte
Posted Sunday, July 13, 2008
With the Gang Gang Bush Orchestra
Mid Mountains Community Centre
New Street Lawson (the other smaller Lawson Hall)
Fundraiser for Mechanics Institute & the Lawson Festival (November)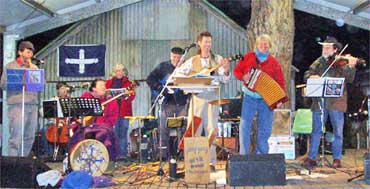 Food & drink available
Donation: $10/$5 ($20 family)
Children under 6 free
Help save and put to good use one of the last remaining Mechanics Institutes!
Come and dance or make out a cheque to "Association of Concerned Mid-Mountains Residents" and send it to
PO Box 54
Lawson 2783
and don't forget your address for a receipt.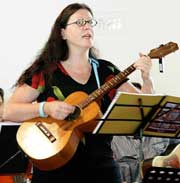 The Gang-gang Bush Orchestra are the Blue Mountains own community bush band, who got together to play music with a green leaning. We are in it for the love and to support our community. We have been steadily growing since 1996 and now number nearly 20 when we're all together. All folk who live on the Mountains and want to play bush music are welcomed. We bring a wealth of diverse musical experience music, from local and contemporary, to classical, traditional and session. Patrick has collected and called bush dance since 1988.