Martin Pearson - "The Unfinished Spelling Errors of Bolkien" @ The Dog

8pm, Sat 25th Feb 2006
By Sandra Nixon
Posted Wednesday, March 1, 2006
The Loaded Dog is proud to present the wonderful Martin Pearson with his two hour extravaganza "The Unfinished Spelling Errors of Bolkien".
Cost is $20/18 (Bookings advisable!)
The show starts at 8pm, doors open 7.30, and why not get in the spirit of things and come dressed as your favourite character from Lord of the Rings?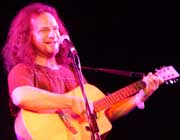 How to describe Martin? Singer, songwriter, comedian, artist, cartoonist, good bloke, what else can I say? So I resorted to a search of that source of (not) all knowledge, the Internet, and selected the following gems:
Martin Pearson is at pains to point out that he is a great fan of The Lord of The Rings and ipso facto he has licence to abduct and mutilate it in a most hilarious fashion. Martin's lopsided view of the film is that he thought it was excellent but would have been so much better as a musical. www.thegreenman.net.au
'The Unfinished Spelling Errors of Bolkien' is the very best kind of parody, witty and erudite and based on a detailed knowledge of the original story. Pearson knows his subject well and the show is full of delicious in-jokes for the real Tolkien fanatic. Which is not to say that it is a show simply for those who spend their time in Internet chat rooms arguing the finer points of Sindarin philology! Members of the audience who had admitted to not reading the books or (horror) seeing the movie, still had a thoroughly entertaining evening. And otherwise quite sensible people were tempted into joining in the choruses and taking part in orc dance routines; though it's to be admitted that no-one went along with the instruction to "get into a properly orcish frame of mind by biting the person next to you" (review of a concert at the Arts Centre Waiheke island, NZ)
preview of the show & an MP3
And of course you get a great preview of the show & an MP3 on the website put up by John Thompson for the 2005 Melbourne Comedy Festival.
Martin Pearson is an accomplished comedian with a fine touch and precise timing, exchanging banter with an audience at breakneck speed. He writes and sings clever parodies, some about inane episodes of everyday life, some overtly political. While you're holding your sides doubled up with laughter, your brain is responding to the incisive content. (From a review of Martin's appearance at Almost Acoustic in 2005.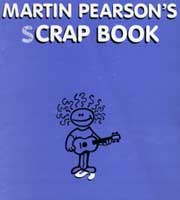 Martin Pearson has a unique place in the Australian folk scene. A singer, satirist, stand up comedian, raconteur, reciter and storyteller he perhaps could be described as Australia's home-nurtured Billy Connolly, but with the lazy invective replaced by added insight, presence and wit (not to mention a better singing voice) (Bendigo Folk Club web site)
Martin's humour is rapier wit at its sharpest ...
Martin Pearson: The Unfinished Spelling Errors of Bolkien - Hilarious new show by master comic, Hailed as 'a monstrous success!' 'an absolute winner', 'Hysterical, very very funny' 'Martin's humour is rapier wit at its sharpest . . . like a hot spoon through butter" (From The Boite)
And finally an interview with Martin in the online magazine Fantastic Queensland.