Martin Pearson + Just a TAD & Moz at Almost Acoustic

Eastside Arts, 10th September 2005, 8pm.
By Margaret Walters
Posted Thursday, September 1, 2005
September at Almost Acoustic features comedian, parodist, social commentator and singer Martin Pearson, as well as a quartet of well known singers - Just a TAD & Moz.
you'll leave feeling thoroughly entertained
Martin Pearson is an accomplished comedian with a fine touch and precise timing, exchanging banter with an audience at breakneck speed.
He writes and sings clever parodies, some about inane episodes of everyday life, some overtly political.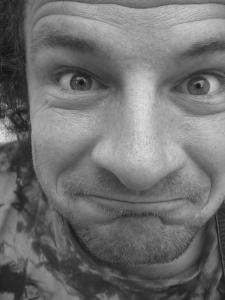 While you're holding your sides doubled up with laughter, your brain is responding to the incisive content.
But Martin also has a wide-ranging repertoire of very fine songs – mostly contemporarily written ones in the folk tradition – and he has a rich tone of voice that makes him a delight to listen to, no matter what the content.
Be alert for his take on The Lord of the Rings ("The Lost Grocery Lists of Tolkien" and "The Unfinished Spelling Errors of Bolkien") – you'll leave feeling thoroughly entertained.
to help you lift your hopes and make tyrants tremble
Just a TAD & Moz are four singers - Tom Bridges, Alison Jones, Deanne Dale, [TAD] and Maurie Mulheron [Moz] - who have pooled their long and varied experience as musicians to perform classic songs from the folk canon.
Tom is a choir-leader and arranger; Alison's background includes leadership of the Blue Mountains women's choir, The Mudlarks; Deanne contributes vocal versatility; and Maurie is famous for his Pete Seeger-inspired performance-style and his work in bands and music theatre over many years.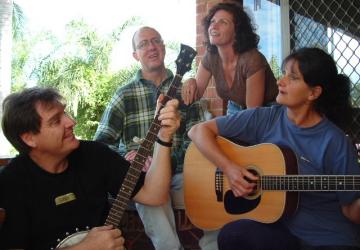 These four combine their talents to help you lift your hopes and make tyrants tremble. Lots of their songs are well known, others less so, and include many that invite chorus participation.
Doors open 8pm. Music from 8.30pm. The venue is licensed and substantial finger food and snacks are available. No BYO please.
Bookings recommended – 9331 2646 or bookings@eastsidearts.org.au – $15/$12
Eastside Arts is at 395 Oxford Street, Paddington - the site of the Paddington Markets
Free car parking – Gordon Street Church car park. Good public transport.