Loosely Woven presents 'Universal Child'

30th November - 23rd December 2012
By Wayne Richmond
Posted Thursday, November 22, 2012
Loosely Woven is a community based group of people who put together and perform three brand new shows each year. 'Universal Child' is the third of these for 2012.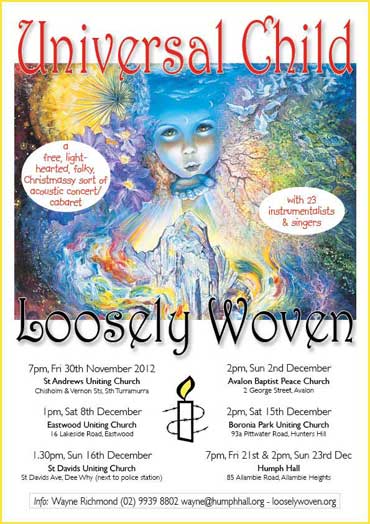 The concert gets its name from the famous Annie Lennox song which so incisively reflects her passion for human rights. The concert also includes a number of unusual Christmas-related songs including local songwriter Peter Kearney's powerful 'Refugee Carol' and Jackson Browne's 'The Rebel Jesus' and many more - the usual eclectic Loosely Woven mix!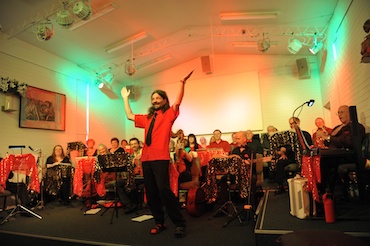 There are 23 performers this time with an instrumental line-up that includes: harp, flutes, clarinets, saxophones, violins, guitars, mandolin, piano, accordion, concertinas, glockenspiel, harmonium, bowed psaltery, keyboard and percussion.
See the Loosely Woven 'Universal Child' web site for more information and a complete list of items (including downloadable copies of the music) and the audience program. Check out the Loosely Woven video clips on YouTube!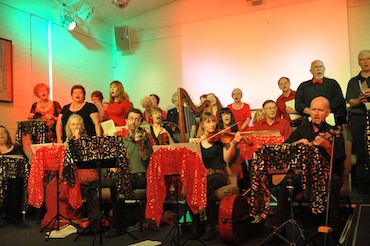 As usual, Loosely Woven will be performing acoustically - no PA system.
COLOUR SCHEME - The colour scheme this time is any plain, bright colour (see the image in the poster above for ideas). So feel free to search through your wardrobe and dress accordingly!
N.B. Booked seats for Humph Hall are only kept until 15 minutes prior to starting time so please arrive early.
There will be seven public performances including two performances in Humph Hall:
St Andrews Uniting Church, Sth Turramurra
7pm, Friday 30th November
Chisholm & Vernon Streets, Sth Turramurra
Avalon Baptist Peace Church
2pm, Sun 2nd December
2 George Street, Avalon
(for Amnesty International)
Eastwood Uniting Church
1pm, Saturday 8th December
16 Lakeside Road, Eastwood
Boronia Park Uniting Church
2pm, Saturday 15th December
93a Pittwater Road, Hunters Hill
St Davids Uniting Church, Dee Why
1.30pm, Sunday 16th December
St Davids Ave (next to the police station)
Humph Hall, Allambie Heights
7pm, Friday 21st December
2pm, Sunday 23rd December
85 Allambie Road
All of the concerts are free though donations will be invited to various causes.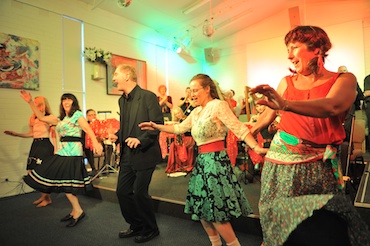 The Humph Hall performance on Friday 21st December will be recorded and videod and uploaded to YouTube.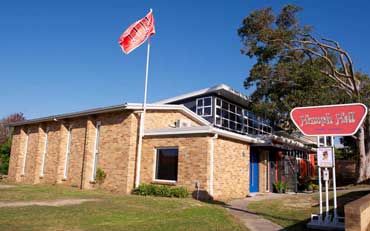 Formerly the Allambie Heights Uniting Church, Humph Hall is now the private residence of Gial Leslie and Wayne Richmond.
For more information visit the Loosely Woven web site or contact Wayne by email or phone: (02) 9939 8802, (0400) 803 804.