'On the road' again with expanded Loosely Woven

16th - 22nd April 2009
By Wayne Richmond
Posted Sunday, February 15, 2009
For the third year in a row Loosely Woven will be taking a concert 'On the road' with performances in Talarm, Bowraville, Grafton, Yamba, Dorrigo, Tamworth & Dungog. On this occasion the regular Sydney members of the group will be supplemented with singers and instrumentalists from Bowraville, Grafton, Tamworth & Dungog. For some of the performances there will be well over 50 musicians on stage!
The line-up for the tour will once again include the amazing Sonia Bennett. Instruments will include harp, fiddles, violas, cellos, recorders, flutes, clarinets, saxophones, guitars, accordion, keyboard and percussion. See the Loosely Woven web site for details of the program.
All Loosely Woven concerts are performed acoustically - no PA!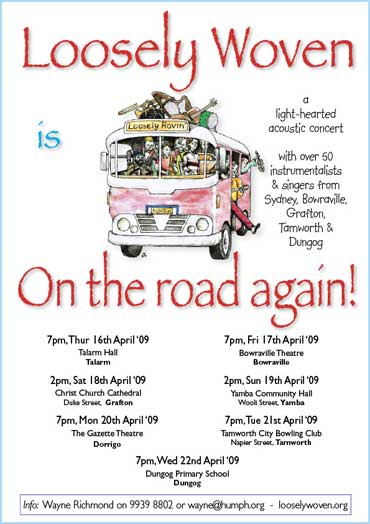 There will be seven public performances:
Talarm
7pm, Thursday 16th April
Talarm Hall, Talarm
Bowraville
7pm, Friday 17th April
Bowraville Theatre
Grafton
2pm, Saturday 18th April
Christ Church Cathedral
Duke Street, Grafton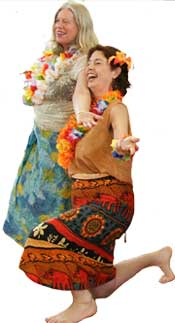 Yamba
2pm, Sunday 19th April
Yamba Community Hall
Wooli Street, Yamba
Dorrigo
7pm, Monday 20th April
The Gazette Theatre, Dorrigo
Tamworth
7pm, Tuesday 21st April
Tamworth City Bowling Club
Napier Street, Tamworth
Dungog
7pm, Wednesday 22nd April
Dungog Primary School, Dungog
Alll proceeds towards various 'good causes!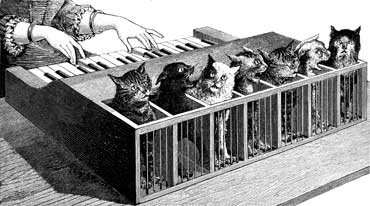 For more information visit the Loosely Woven web site or contact Wayne by email or phone: (02) 9939 8802, (0400) 803 804.