'On the Road' with Loosely Woven

A personal report
By Sonia Bennett
Posted Monday, May 7, 2007
On the road we went with 'Loosely' with passion to sing and play in Dungog, Tamworth, Armidale, Grafton and Yamba.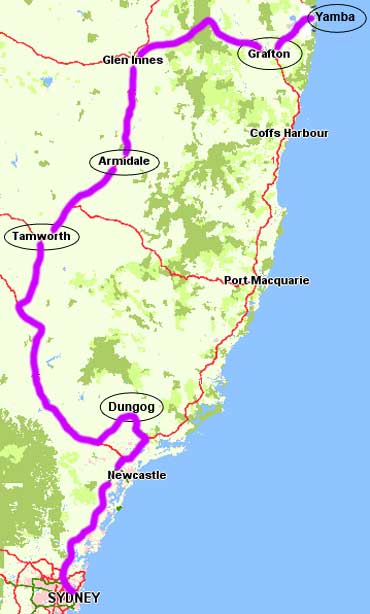 This was the idea of Wayne Richmond's and when he asked me I said, "Yes" and so did the other people in Loosely Woven. What a fun packed week - a concert in each town and rehearsals as well. I couldn't resist it. Some of the local musicians joined us in each town. Wayne emailed songs to the different groups to learn and they emailed songs that we learnt and we backed some of the performers in the concerts. A good exchange and people in the towns welcomed us and were very generous with their time, food and billets.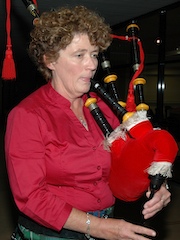 The talent in all the towns we visited was great to hear. There were wonderful singers and musicians, mostly young. A big 'Thankyou' to Vicki Harbison (Fiona's Mum) for organising musicians in Tamworth and Armidale and also for playing with us for the whole trip. Vicki also gave us lunch and welcomed us to her home in Tamworth. She is a dedicated activist for human rights and the environment who also plays double bass and bagpipes. The acoustic double bass was a great backing for songs like Wollemi Pine.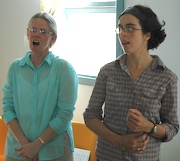 Pauline Cambourne & Helen Birrell organised the Dungog concert and it was good to see Pauline after all these years. What a lovely town Dungog is with its wide streets. It was great to be in a quiet place. We had a good crowd in the little Baptist Church Hall. Most of us stayed in the Wangat Lodge, which is situated on a 37 hectare Wildlife Refuge bordered by a pristine stretch of the Chichester River and overlooking Chichester State Forest. It was so good we didn't want to leave.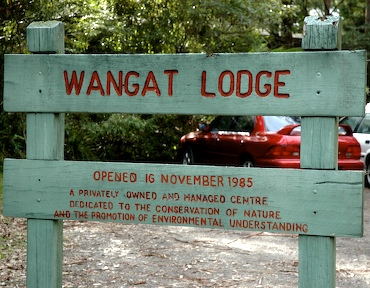 Tamworth the next day: all afternoon rehearsals with the local people and the songs. Our program started off with Brand New Day written by Christine Wheeler and Jed Corben. A great song about reconciliation. There were many songs with important messages about the environment like Salutations to the River Red Gums, and The Last Tree on Rapa Nui by Loosely Woven member Kevin Murray and sung by Glenys Murray.
They saw it standing there,
They'd lost their chance to care,
They knew it was the last,
We must learn from their past.
The Poison Train (Mike O'Rourke) is about trains that carry chemicals to poison weeds that grow by the tracks and also about the closing of country railway stations. Barry Lees gave a very accurate introduction about the trains, the fettlers and the closing of country railway stations as well as singing a verse of the song.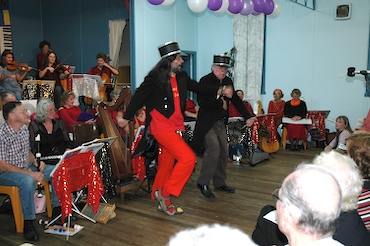 ('Gendarmes Duet' being performed at Dungog)

There were fun songs as well -
Gendarmes Duet
(W.H.B. Farnie/M.J.Offenbach) with Wayne Richmond and Ian Hamilton was hilarious.
The Kangaroo Sat
(Keith Murray) - again Wayne and Glenys Murray. And there was a song about Sydney, which was a lot of fun with everyone dressed in a variety of clothes:
'S' is for the silvertails of Mosmon
'Y' is for the Yuppies of Balmain,
'D' is for the dearest town that I have ever known,
'N' is for non-payment of the loan.'
'E' is for eviction without warning,
'Y' should this be happening to me.
Put them all together they spell SYDNEY!
The word that means sweet home to me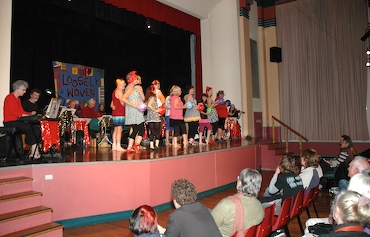 ('Sydney' being performed in Armidale Town Hall)

Challenging songs are been written in these challenging times and lets hear more of these. One such song was,
I ain't afraid
by Holly Near. A brilliant song. In all the places we sang this song only one person got upset.
I ain't afraid of your churches,
I ain't afraid of your temples,
I ain't afraid of your praying,
I'm afraid of what you do in the name of your God.
There were two songs about soldiers who do not return - one from the First World War and the other from Vietnam:
Sydney Rose (D.Kevans/S.Bennett)
My Sydney rose, wild Baronia of my home,
She blooms in beauty, from a love born in the stone.
A stone that's woven, with the wild tattoos of time,
She's my Sydney Rose, the wild Baronia and she's mine.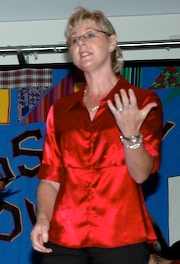 Travelling Soldier (Bruce Robison). A 'Dixie Chicks' song chosen by Kim Connor from Grafton: beautifully sung and a great choice.
There were some lovely sets played by some of the musicians in the group including Fiona Munro, Nick Stuut, Christine Wheeler, Noni Dickson, Vicki Harbison, Helen Kvelde, Barry Lees, John Kibby, Helen Tucker, Kate Finch and many others. June Apple, Ashokan Farewell, Fiona's Shakin' the Barley for Tuppence and Johnson Boys were the sets.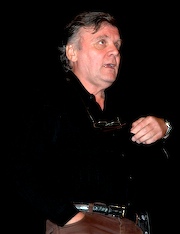 There was a great variety of songs, everybody contributing, including one of the finest tunes I've heard to a Lawson poem Break O' Day. The tune composed and beautifully sung by Ian Hamilton was a joy to listen to. Ian is a Henry Lawson tragic and has been reading Lawson since the age of 14. He has composed many tunes to Lawson's poetry.
Thank you to Helen Tucker for organising the concerts for Grafton and Yamba. Helen is very active in the Grafton Community and is a music teacher (cello, guitar, keyboard and ukulele). Helen, the sister of Kevin Murray, took me through the more interesting back road to Yamba via the ferry on the amazing Clarence River. Great country - lush and green, lots of rains and the most southerly area where sugarcane can be grown. This is some river and there's talk of damming it. Well, what will they think of next? Well damn them!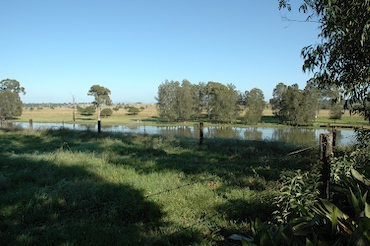 There was the beautiful jewish song Erev Shel Shoshanim (evening of roses) sung so well by Gial Leslie, Rima Muir and Glenys Murray and two African songs sung by everybody showing our love for all types of music. Pat Russell (artist and Miss Marple), Kate Freyburg, John Kibby, Leanne Morgan, Kevin Murray (percussion), Noni Dickson (harp, vocals) all from Sydney are part of 'Loosely Woven'. Thanks to all the singers and musicians who joined us in the different towns.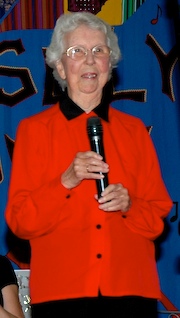 At the Yamba concert there was an hilarious poem, Rindacella recited by Kevin Murray's Mum, Dorothy Collins. Oh, yes, I sang some songs too, one old pot-boiler I wrote about 30 years ago called Murray River was popular with 'Loosely Woven' and audiences.
I Like Iluka, a local song written by Clyde Collins of Yamba (step-father of Kevin and Helen) has a great tune in that old-fashioned popular song fashion. It was sung by Ian Hamilton and Helen Tucker in a soft shoe shuffle way. Clyde wrote many songs about the different towns I was told.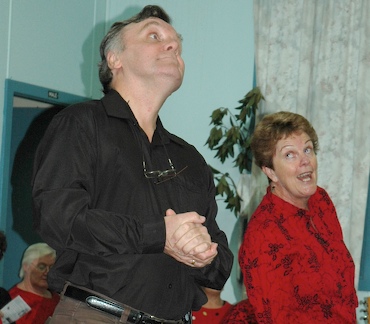 Finally, I'd like to share a small story about my interesting night out past Uralla. Clare Campbell lives on this beaut 100 hectare property with six dogs and she was kind enough to billet Chris, Pat, Helen and myself for the night. It was the starriest night of all, the heavens were plastered with billions of stars and the night was dead silent and the six dogs were really happy to see us. So friendly were they that four of them slept on my bed. I really didn't need the doona. This was a photo opportunity.
Sonia Bennett
22nd April 2007