You are here:
home > dance > south coast
Ray Pereira Drum & Dance Workshop - Harbord

11-5, Sun 12th February 2006
By Wayne Richmond
Posted Thursday, January 19, 2006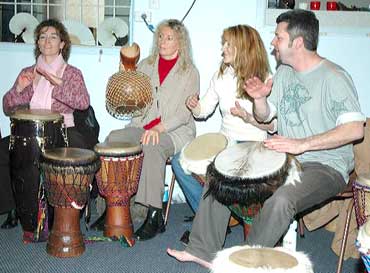 Drum and Dance!
Experience and learn rhythms from the West Coast of Africa in their traditional fashion
Learn and play each drum part: Intros for the dancers, supporting rhythms, breaks and solos.
Then you can learn the dance parts, or continue to drum for the dance sessions.
Finally we put it all together for a complete performance of drum and dance!
Instruments used include Djembe, Congas, Kpanlogo, Talking Drums, Dun Duns, Cowbells and small percussion.
Venue
Youth & Creative Arts Centre
23 Oliver Street, Harbord
Date
11am-5pm, Sun 12th Feb 2006
Cost: $50 (drum & dance)
(Drums available for hire: $5)
For more details or to book, email or call Mike Almond (0402) 101 843 or visit the FeelRhythm web site.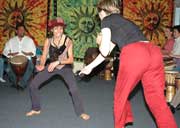 Ray Pereira has performed and recorded with Kate Ceberano, Paul Kelly, Tommy Emmanuel, Christine Anu, Vince Jones, Yothu Yindi and many others. Ray has studied with many of the world's top drummers (including Ghanaian master musician Nii Tettey Tetteh), and is a recognised expert on West African and Afro-Cuban drumming styles. Ray lives in Melbourne, where he runs numerous percussion workshops, whilst performing and recording with local artists.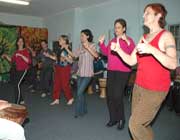 Ray's most recent project, Zebra Crossing is a collaboration with Leo Dale and Valanga Khoza. Their multi-layered self-titled album focuses on Valanga's songs drawn from his upbringing in South Africa. Their first album Zebra Crossing was released at the end of 2004.