New England USA – is this the most thriving folk scene in the world?

An Australian on the New England contra dance floor.
By Jeanette Mill
Posted Monday, July 18, 2005
Jeanette Mill wrote this article for Monaro Musings, newsletter of the Monaro Folk Society, and it has subsequently been published in the newsletter of the Traditional Social Dance Association of Victoria, and in FFNSW's Cornstalk Gazette, and also in NEFFA News, the newsletter of the New England (USA) Folk Festival Association.
It is time I put hands to keyboard to tell you about my dancing and musical experiences in New England. The reason I haven't written this earlier is that I was too busy having fun to stop and write.
I put New England on my world tour itinerary largely because of it being the home of contra dancing and music. I had grown to love these through the sporadic but wonderful exposure through the Canberra dance scene, clinched by the fantastic contra at the 2002 National Folk Festival run by Contratemps.
I spent 10 days in Toronto prior to flying to Boston, and went contra dancing there. When the locals heard where I was headed, they commented "Oh – well this is just the warm up then".
A bit of internet sleuthing and a few hints from friends at home had me at a dance in the exquisite New England town of Concord (pron. Kunkered) only hours after touch-down in Boston. They were fabulous dancers, and an enquiry to the caller delivered to the assembled that I was from Australia and needed a lift home brought not only laughter but a ride back to Boston, and my first friends.
The next night I danced at Massachusetts Institute of Technology, the next was English Country Dancing with the legendary Bare Necessities playing live (as they have done every week for 20 years), but this was all a warm up for Thursday night. At a hall called the VFW in Cambridge, up to 200 people turn up every week for contra dancing. It is quite a phenomenon, and they are mostly great dancers. Luckily Canberra dancer Pauline Allingham had warned me that they are merciless practitioners of eye contact, or I would have died swooning. Because everybody practises it, you feel totally comfortable, and it definitely adds to the high standard of dancing. The crowd was young relative to many dancing crowds, and the pace lively. Embellishments such as twirls (for males and females) were practised frequently and with great skill, and the band was fantastic. By early in the evening the friendly locals had worked out that I was a visitor from Australia, and I had several offers to participate in social functions, go to dances in other towns, and to a folk festival in Connecticut.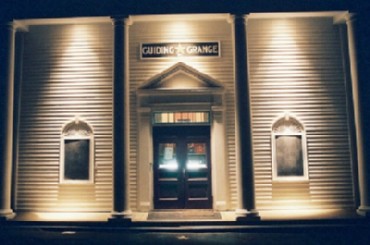 So on Friday I was taken to Greenfield, two hours west of Boston, to what I have seen described as the epicentre of contra dancing. The beautiful historic Guiding Star Grange Hall is the hub of activity, and as far as I can see the twice weekly dances (Friday and Saturday nights – with about 200 people turning up to each!) are largely the work of David Kaynor, the Greenfield Dance Band, and a consortium of other callers, musicians and bands. David Kaynor does such beautiful posters for the dances, with hand-drawn scenes of New England architecture, that you would go to the dances on that strength alone.
These dances are so fantastic that my weekly pattern for the next three months revolved around travelling to Greenfield for as many of these dances as possible.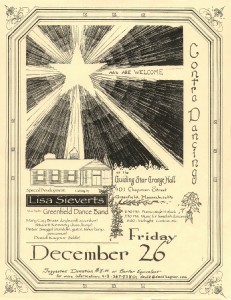 After my first Greenfield dance I was transported to Connecticut for the Northeast Music, Arts and Dance Festival (NOMAD)– a weekend of more contra dancing than you could poke a rapper sword at – plus lots of Morris, Rapper, English, Balkan, and any style of dancing you care to mention. But I was a contra junkie for the whole weekend, and was introduced to some delightful new concepts such as the medley. This was a 20 minute dance where about 6 callers lined up and took us through a non-stop medley of dancing, with no walk throughs, and each caller calling the dance before once through to ensure a smooth transition. What a test of skill for everyone concerned.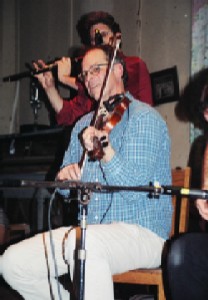 There are so many festivals and events in New England that some are specific to a particular aspect of contra dancing, such as the Ralph Page Dance Legacy Weekend. Luckily my friend Lisa Sieverts had pointed out beforehand that this weekend was dedicated to older dances done in the style of the era, so not to be upset when partners didn't twirl me or do other modern embellishments. This weekend was where I discovered the talents of Moving Violations, whose grins were as wide at the end of the weekend, after playing just about non-stop, as they were at the beginning. This band has two brilliant fiddlers – Ron Grosslein and Van Kaynor - who play off each other constantly, and throw in the most unlikely tunes, such as Vivaldi, to which you discover to your delight that you can contra dance. Here I also discovered what has to be my all-time favourite waltz tune – Josefin's. Waltzes are traditionally played at the end of every contra dance evening, and a Hambo is always played right after the break. Thankfully I had learned this at Scandinavian dance classes in Canberra (it's a bit like learning to ride a bike or Eskimo roll – tricky to master but very satisfying).
Every caller and band I heard prompted me to think that they must be the best in New England. But then I would hear another, and another, and I wondered where the talent would end. Of the bands that I heard my top few would have to be:
Nightingale not only play some of the most sensitive renditions of contra tunes I have heard, but have heart wrenchingly beautiful songs, such as the Newfoundland traditional song "Tickle Cove Pond", on their CDs. Regrettably there are only two CDs –
The Coming Dawn
, after a tune penned by one of their members just before a Brattleboro Dawn Dance, and
Sometimes When the Moon is High
. Buy them both.
I heard Nightingale play at the Snow Ball. This dance was quite a phenomenon and easily the best dance I have ever been to in my life. Held in the beautiful historic Peterborough Town Hall in rural New Hampshire, in mid winter, the temperature was –20deg C outside, and there was a thick blanket of snow and ice over the whole world. But inside the dancers were frolicking in summer skirts and shorts. The dance went from midday to midnight, with the only breaks being 20 minutes to change bands. I danced the first 6 hours without a break – fortunately a friend bought me food so I didn't have to decide "queue for the loo or queue for food?". Becky Tracy and Keith Murphy, two of the three equally brilliant members of Nightingale, also played in Big Bandemonium, the second of the 4 bands, so they played for 6 hours almost non-stop. Then joined us on the dance floor. There were 360 dancers on the floor at the height of the evening, and 1/3 as many again up in the balcony resting. And they were almost without exception fantastic dancers. I wasn't bad myself by this stage, having had several months of dancing almost nightly. I had achieved a quadruple twirl coming out of a ladies chain before heading into the next move at a Greenfield dance earlier when I was dancing with a particularly nimble and balanced partner. We both got an enormous thrill out of that.
Another highlight of the Snow Ball was the sparkling foot percussion solo by Keith Murphy, an ex-Newfoundlander and guitarist in Nightingale. The dancers were so inspired by his artistry that they joined in. It was quite a moment. In fact there were many occasions at different dances where dancers would erupt into foot percussion. What was odd about it was that they were like a flock of birds or school of fish, somehow they all did the same thing at the same time.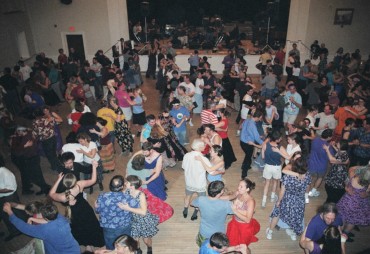 When the Snow Ball was finished, I was informed that it would only be weeks until the next equally amazing event, such as the twice yearly Brattleboro Dawn Dances, which run from 7pm to 7am, and NEFFA (the New England Folk Festival Association festival which I was receiving daily torture emails about until it was held in April, telling me it is an event not to be missed).
I was moved to tears on more than one occasion by the beauty of the music and skill of these talented New Englanders. I was particularly enthralled by the ability of David Kaynor to call dances (expertly to a hall of 200 people) and play his fiddle at the same time. Then I saw Fred Breunig calling sung squares while playing his fiddle, and it was all too much – I was overcome with joy.
I had intended to stay in New England for one month, then continue south, as the weather was well and truly wintry by then. But I loved Boston and the dancing so much I only left three months after my arrival (apart from a short side trip to California), when my entry permit forced me to go.
I bade New England a teary farewell in early February, coming away with about 30 CDs in my luggage, and 42 dances under my belt (if you count each day of each festival as one dance). And a truck load of wonderful new friends, who I will never forget.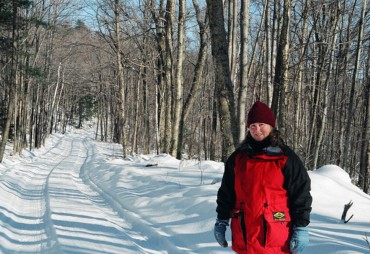 And now a note from Julie Bishop:
If you're wondering, "Where can I do this wonderful dancing in Sydney?", then make a note of these details.
Annual Contra Dance for the Royal Flying Doctor Service
Granville Town Hall, Carlton Street, Granville
Saturday 30 July, 8pm to midnight
Live music from Pastrami on Ryebuck, with caller Julie Bishop
All welcome. Supper provided.
$15, concession $12.
Enquiries: John 02 9623 7551 or Leila 02 9896 8992