Contra Dance: What & Where

Learn what contra dance is and where to do it in Australia
By Julie Bishop
Posted Thursday, August 1, 2013
Maybe you have only just heard about contra dance. For a bit more about what it is, have a look at my article "RFDS Contra Dance", on this website. Or just search for "what is contra dance?" on the net, and you will find rapturous descriptions of it.
Basically, it is what happened to longways English country dances over a couple of centuries or so, starting in America's New England states, and spreading across the USA. If you saw the "Pride and Prejudice" series on ABC-TV, and remember the scene where Elizabeth Bennet is coolly talking with Mr Darcy as they progress down and then up a long dance set - well, that was a longways English dance (couples, in a longways set).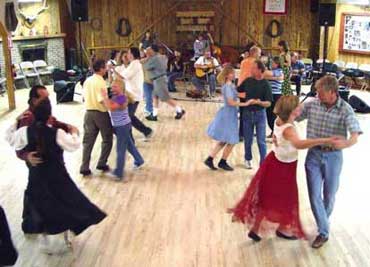 In New Hampshire, and Massachusetts, and other early settlements, those dances gradually took on a life of their own. Under the influence of French allies and their dancing teachers, the English "back-to-back" became a "dos-a-dos" (do-si-do), the right- or left-hand turn became a right (or left) allemande. While each English dance most often had its own particular music, the music for New England contras borrowed more from Irish, Scottish and French-Canadian jigs, reels and marches. Some of the old "chestnuts" in contra still have their own tunes (eg Rory O'More), but for later contras any tune can be chosen.
Apart from the "swing" in ballroom hold (a popular movement), or "balance and swing", contras are done with a walking step, like so many English dances. No fancy footwork is needed. The same pattern of movements, taking up 32 bars of music, is repeated each time you move along the set and meet a new couple. So after a few times through you're getting a good idea of what you should be doing - and the dance caller continues to call the movements, as needed. And if you're still struggling, the more experienced dancers you meet will guide you; and then hand you on to the next couple; and so on.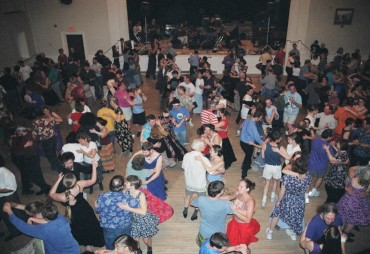 The dances flow! They're so much fun! I have never seen a glum contra dancer.
Now, where can you do it?
In Canberra:
The Canberra Contra Club runs fortnightly contra workshops, on 1st & 3rd Tuesdays, with live music. They also have 4 Saturday night dances a year, with live music usually led by Rob Mahony. Colin Towns, (02) 6238 0246, 0417 020 615, email, web
The National Folk Festival in Canberra over Easter generally has a contra workshop and/or dance in its dance program - web
In NSW:
Other states:
Victoria: Contra dances with live music are now running in Melbourne on the last Sunday of the month (except January and December), at Uniting Church Hall, 251 High St, Northcote, 7.30-10.15pm. 0422 932 532. Facebook. And the TSDAV Spring Dance Weekend, Portarlington, in early November each year, sometimes includes a contra workshop.
South Australia: Maureen Morris teaches Australian, English and Scottish dances, and some contras, in Adelaide. The Australian Traditional and Bush Dance Society, at Prospect Town Hall, 2nd, 4th & 5th Tuesdays. (08) 8261 8225.
Tasmania: Danceaholics Unanimous, in Hobart. A mix of dance styles, including contra. Dave Wanless, (03) 6273 2127.
Queensland: An occasional contra is taught. The best people to ask are Vic and Jan Orloff, (07) 3848 7706.
Western Australia: Assorted international dance, but I know of no contra - web
Another
useful link.