Fellowship of the Strings

A recipe for magic
By Jackie Luke
Posted Friday, February 4, 2005
Five talented musicians make up the Fellowship of the Strings, the most innovative acoustic band to emerge on the Central Coast in recent times.
mesmerising & captivating
Fronted by sisters Ingrid and Tahlia Racz, the band has a strong vocal focus. Their powerful, expressive voices have variously been described as mesmerising and captivating, with each providing the perfect harmonic foil for the other. Songs from the last three decades are given a fresh interpretation - an old world sound with a contempoary edge.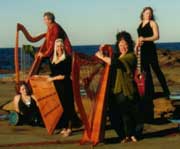 The unique quality of the group is a result of the inclusion of the rare combination of Celtic Harps, Hammered Dulcimer and Percussion. Around 150 strings join forces to weave enchanting accompaniments, rhythmic backing, and Celtic instrumental solos.
Expect to hear strangely familiar, yet new sounding songs and tunes - Uriah Heap, Sting, Kiss, and Paul Simon to name a few! And don't be surprised to rediscover traditional favourites.
And if you think folk music isn't glamorous then, think again. The Fellowship of the Strings takes a creative approach to presentation. Be prepared for a refreshing and unique musical experience.
For more information go to the Fellowship of the Strings web site.
Bookings
Jan (02) 4342 6699
Jackie/Greg (02) 9985 8309 (0417) 416 945