John Dengate & Bob Campbell share the bill at The Loaded Dog

8pm Saturday 23rd July 2011
By Sandra Nixon
Posted Wednesday, April 20, 2011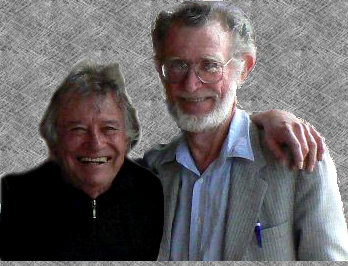 1 hour each from John Dengate & Bob Campbell (floor spots only, no support!)

John Dengate
has been involved in traditional and folk music since the late 1950s in Menindee, where he was sent on his first teaching appointment. Here he met Brian Mooney, who introduced him to traditional Irish music. However, even in his childhood days he was writing rhymes, reciting Banjo Paterson and was acknowledged as a story teller who could capture everyone's attention.
For over sixty years, John has been writing songs and poetry about life in Australia and his performances reflect his deep interest in history, his humanity, his sense of humour and his irreverence. While he is best known for the performance of his songs of satire and political comment, John has also written songs of deep compassion about his family and everyday Australians who battle through life. He is also referred to as a National Treasure.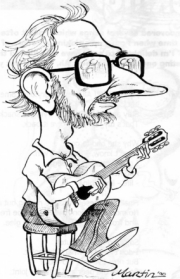 Despite all these achievements he is known for his one great weakness -
he is a failed punter. BigRuss Hannah, AOM

Bob Campbell
is a veteran of the Australian folk music scene, a singer, musician, writer, poet, teacher and story teller who has performed in many parts of the world and throughout Australia.
He has recorded many CDs, both solo and with his band, Home Rule, and has toured and performed extensively, here and overseas, playing his particular style of distinctively Australian music.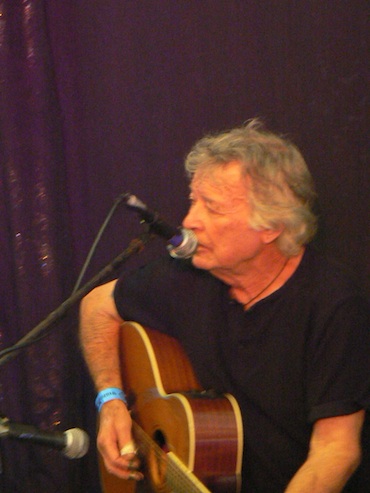 Bob's set will include the songs from his radio play "Running on the Great Divide" the story of Wiradjuri man Jimmy Governor who finally exploded after years of racist treatment & humiliation by the local whites who employed him, and with his brother Joe killed nine people. For ninety days they were the subject of the largest manhunt in Australian history.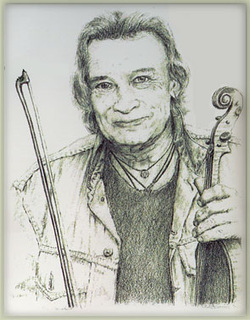 Annandale Neighbourhood Centre, upstairs, 79 Johnston St, Annandale -
Bookings & enquiries 9358 4886

John Dengate drawing - Martin Pearson
Bob Campbell drawing - Steve Mountford
Photos - Sandra Nixon