John Dengate

National Treasure
By Sandra Nixon
Posted Saturday, April 16, 2011
John has often been called a 'national treasure'
John Dengate has been involved in traditional and folk music since the late 1950s in Menindee, where he was sent on his first teaching appointment. Here he met Brian Mooney, who introduced him to traditional Irish music. However, even in his childhood days he was writing rhymes, reciting Banjo Paterson and was acknowledged as a story teller who could capture everyone's attention.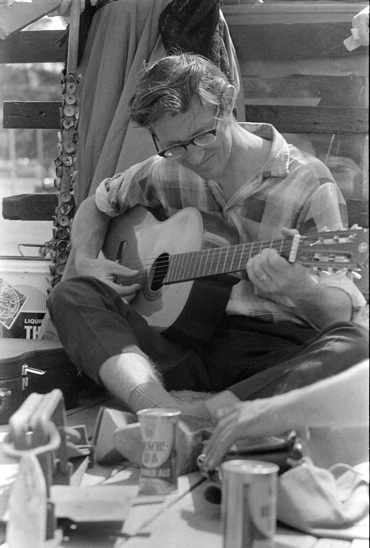 On his return to Sydney he was introduced to the Bush Music Club in 1961, by his future wife Dale. At the BMC, John was very influenced by John Meredith, who recorded many of his early songs which he was writing almost weekly. Most of these dealt with the political situation of the day and used the Australian idiom or were in satirical vein. Because of the vast number of songs recorded for the National Library archives and his contribution to Australian traditional music, John has often been called a 'national treasure' when being introduced at festivals around Australia and even at Old Parliament House, in Canberra.
Despite all these achievements he is known for his one great weakness - he is a failed punter.
BigRuss Hannah, AOM
For over sixty years, John has been writing songs and poetry about life in Australia and his performances reflect his deep interest in history, his humanity, his sense of humour and his irreverence. While he is best known for the performance of his songs of satire and political comment, John has also written songs of deep compassion about his family and everyday Australians who battle through life.
His books My Shout and My Shout Again sold out and have become collector's items. His early songs, which were included on recordings with the Bush Music Club and Rebel Chorus, and The Follies of Pollies; Songs About the Australian Way of Strife (1996) have long sold out, but in 2002 a two volume CD John Dengate: Australian Son (Shoestring Records) was launched at the National Folk Festival and is still available.
John has been interviewed & many of his songs recorded for the National Library Oral History Collection.

As Tony Smith said in Master of dissent: the music of John Dengate (AQ: Australian Quarterly 76:22, 38-40, 3/2004) about John's appearance at the National Folk Festival 2004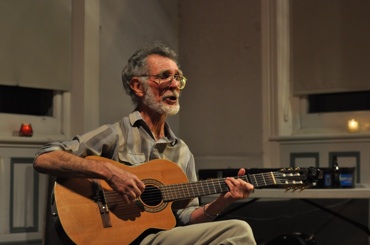 While the very existence of folk music encourages resistance to neoconservative values, the content of some forms is dedicated specifically to dissent. Among the stars of this festival was Glebe singer-songwriter John Dengate. Dengate is probably familiar to many city workers as a busker on prominent corners, playing Irish and Australian tunes on his tin whistle, with trusty cricket cap open on the footpath. The festival program billed Dengate as a 'living treasure'. He gave two concerts, one in the lower house chamber at Old Parliament House, an appropriate venue for an act described as 'forty years of political dissent' through satirical songs. The concerts were well attended and the audiences were absorbed in Dengate's witty, irreverent lyrics set to eminently singable tunes. The 'living treasure' tag was well appreciated as standing ovations were forthcoming.
Photos -
1971 Carcoar Festival & 2010 Loaded Dog - Bob Bolton