Singing From the Soles of Your Feet

Return workshop! Tues 19th Sept 2006
By Christina Mimmocchi
Posted Friday, September 1, 2006
Eastside Arts presents:
Frankie Armstrong's only public workshop
Tuesday 19 Sept (7-9pm) $20 / $15
Stone Gallery on Oxford (Paddington Uniting Church)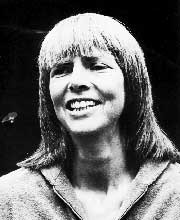 Frankie is a uniquely inspiring performer and teacher. Since 1975, she has been running voice workshops in Britain, Europe, North America and Australia. She pioneered Voice Work based on traditional styles of singing, initially influenced by the North American singer and folk song collector Ethel Raim. Her workshops are for singers and non-singers alike - in fact, the aim is to do away with this distinction - and are inspired by cultures where everyone sings as naturally as they talk. Frankie has also written and edited book on singing and voice work, and has released a number of CDs. Frankie is returning to Australia to teach masterclasses at NIDA and this will be her only public workshop.
The Stone Gallery on Oxford is on the site of the
Paddington Markets
395 Oxford Street
Paddington
Workshop price: $20/$15
Bookings essential – email or (02) 9331 2646
Free car parking – Gordon Street Church car park. Good public transport.
Map on www.eastsidearts.org.au
Eastside Arts acknowledges the generous financial assistance of Arts NSW and City of Sydney.