Letterbox Music!

8pm Saturday 21st April 2007
By Christina Mimmocchi
Posted Thursday, March 1, 2007
EASTSIDE ARTS presents
Almost Acoustic - Letterbox Music
An evening of hot acoustic music
Zahir (Brian Campeau & Ben Kidson)
Peter Miller Robinson
Vic Farrell
Michael Azzopardi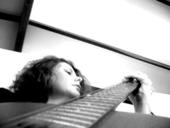 Letterbox Music - Australia's youngest record label. Sometimes you just have to do it all yourself. Vic Farell had been working in Sydney for some years living a dual life: working by day in marketing and playing in her band "Letterbox" by night. Vic found plenty of fantastic talent in Sydney who, due to the slowly dying live music scene, were largely overlooked. So she took things into her own hands and set up Letterbox Music - a non-profit collective of singer song-writers from Sydney who deserve better treatment and a much higher profile.
Eastside Music Café is on the site of the Paddington Markets
395 Oxford Street
Paddington (Church Hall)
Doors open 8pm (music starts 8.15pm)
The venue is licensed and finger food and snacks are available
$15/$12
Bookings: (02) 9331 2646 or email.
Free car parking – Gordon Street church car park.
Eastside Arts gratefully acknowledges the financial support of Arts NSW and the
City of Sydney and the support of the NSW Folk Federation