Juggling Time at Eastside Music Café

8pm Friday 15th September 2006
By Christina Mimmocchi
Posted Friday, September 1, 2006
Eastside Music Café presents:
Mic Conway's National Junk Band
+ a special solo appearance by Azo Bell
Expect the unexpected! These "virtuosos of the bizarre" create a live stage experience that must be seen and heard to be believed. Wielding National guitars, ukuleles, a sousaphone, a phono-fiddle, actual garbage cans and metal sinks, these rhythmagicians make venues rock.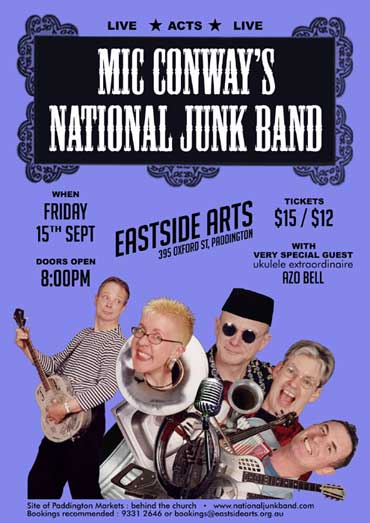 The music and antics of the National Junk Band defies categorisation. Witness fire, illusion, passion, irreverent satire, singing saws, flying chooks and musical mayhem. Is this post-millennium cabaret or new vaudeville? No, it's the National Junk Band!
The fans have described them as :
"the Sex Pistols meets Bing Crosby"
"bluesy with a touch of Monty Python"
"extreme entertainment"
"layer upon layer of insanity, lunacy, anarchy"

Plus . . .
Singing saw phenomenon Azo Bell from the Old Spice Boys. People often wonder why an accomplished and innovative guitarist chooses to play the ukulele. His band mates claim "it's so he can pick on something even smaller".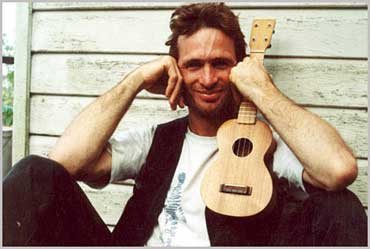 Eastside Music Café is on the site of the Paddington Markets:
395 Oxford Street
Paddington
Tickets: $15/$12
Doors open 8pm. Music starts 8.15pm
The venue is licensed and food is available
Bookings recommended – email or (02) 9331 2646
Free car parking – Gordon Street Church car park. Good public transport. Map on www.eastsidearts.org.au
Eastside Arts acknowledges the generous financial assistance of Arts NSW and City of Sydney.