If he's good enough for Tom Waits . . .

Karl Broadie at Eastside Arts - Sat 9th Sept 2006
By Christina Mimmocchi
Posted Sunday, August 20, 2006
Eastside Music Cafe and Almost Acoustic present
Karl Broadie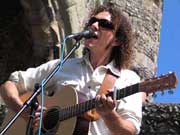 Karl Broadie, a Sydney-based Scotsman, found his way to Australia back in 1997. A debut album, Nowhere Now Here (2003) and a follow-up EP Everybody's Gold (2004) earned this displacedpoet/lyricist/troubadour, global recognition and a reputation as a very fine craftsman of songs. Reviews in MOJO, UNCUT, RECORDCOLLECTOR, HARP(USA), AMPLIFIER(USA) Rhythms(AUS) all praised Broadie's unique "sweetly cracked" voice and drew songwriting comparisons to the finest of the Americana/Alt-Country genre; Dylan, Steve Earle, Townes Van Zandt, Neil Young and Wilco. He recently won first prize in the Roots/Americana section of the International Songwriting Competition, of which one of the judges was Tom Waits.
+ Indigenous contemporary rap by Jakalene Extreme - she says it like it is!
Eastside Music Café is on the site of the Paddington Markets
395 Oxford Street
Paddington
Tickets: $15/$12
Doors open 8pm. Music starts 8.15pm
The venue is licensed and food is available
Bookings recommended – email or (02) 9331 2646
Free car parking – Gordon Street Church car park. Good public transport.
Map on www.eastsidearts.org.au
Almost Acoustic is supported by the NSW Folk Federation. Eastside Arts acknowledges the generous financial assistance of Arts NSW and City of Sydney.