Final gig of the season @ Eastside Arts

8pm, Saturday 30th June 2007
By Christina Mimmocchi
Posted Wednesday, May 23, 2007
EASTSIDE ARTS presents
Almost Acoustic with Alex Legg

+ Francesca Sidoti
Eastside Music Café's final gig until August is a winner! Scottish-born, now Melbourne based, Alex Legg returns to Eastside Music Cafe. His hammering, percussive guitar and earthy, blues-tinged songs has been slowly building up a storm with four songs in the Australian Top 10 Roots Charts and one song, 'Heaven Help Me' covered by Johnny Neel, at Number 2 on blues charts around the world.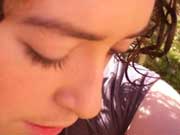 The support act for the night is young and upcoming songwriter Francesca Sidoti who won the Lis Johnson Award for vocal excellence at the National Folk Festival.
Come and celebrate the end of a great first half of 2007 and help us launch the new program that kicks off in August.
Eastside Music Café is on the site of the Paddington Markets
395 Oxford Street
Paddington (Church Hall)
Doors open 8pm (music starts 8.15pm)
The venue is licensed and finger food and snacks are available
$15/$12
Bookings: (02) 9331 2646 or email.
Free car parking – Gordon Street church car park.
Eastside Arts gratefully acknowledges the financial support of Arts NSW and the
City of Sydney and the support of the NSW Folk Federation