Eastside Goes to Malta

8pm, Saturday 11th August 2007
By Christina Mimmocchi
Posted Tuesday, June 26, 2007
EASTSIDE ARTS presents
Skorba
+ Guava
Skorba is a musical collaboration between John Robinson (oud, tamboura, guitar), Andy Busuttil (percussion, vocals, whistles, clarinet) and various guests performing original music sung in Maltese with a theme of cultural unification. Drawing on the collective musical backgrounds of these two musicians, Skorba is a unique representation of the historic cultural influences on the Islands of Malta.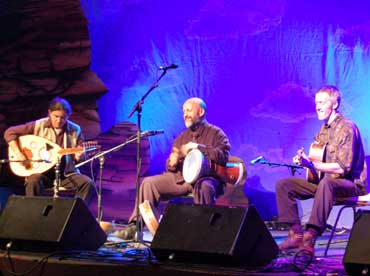 The music is unique. Nowhere else have compositions of this nature, in Maltese, been formed and played. This is music that haunts, chills, thrills and leaves audiences with the desire to find out more about the Islands of Malta and the treasures they contain. One of the treasures is a cd of this music which will be launched on the night. The band is generously playing as a fundraiser for the venue – tell your friends! Come along! www.myspace.com/skorba
Eastside Music Café is on the site of the Paddington Markets
395 Oxford Street
Paddington (Church Hall)
Doors open 8pm (music starts 8.15pm)
The venue is licensed and finger food and snacks are available
$15/$12
Bookings: (02) 9331 2646 or email.
Free car parking – Gordon Street church car park.
Eastside Arts gratefully acknowledges the financial support of Arts NSW and the City of Sydney and the support of the NSW Folk Federation