Railways Display & Film Festival

One of many events commemorating 150 years of railways in NSW
By Brian Dunnett
Posted Tuesday, September 20, 2005
National Museum Display and Film Festival
For 150 years, railways have been the lifeblood of our nation. To commemorate 150 years of rail in Australia, the National Museum of Australia is presenting a touring display and film festival.
Developed in partnership with the Powerhouse Museum and the University of New England, the display will use graphics, photographs and sound to tell the remarkable story of Australia's railways, and the people who built, worked and rode on them. A selection of rail-related feature films and documentaries will also be available to allow venues to stage a rail film festival in association with the display.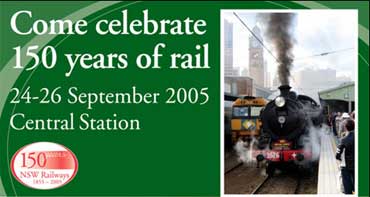 The display will begin touring at the Powerhouse Museum from 19 to 26 September 2005 to mark the 150th anniversary of the opening of New South Wales' first railway line. It moves next to the Tamworth Regional Entertainment Centre for the National Railway Heritage conference to be held from 28 to 30 September 2005, and will then travel to further venues around Australia.
Display Information
Two temporary free-standing display systems, each with six graphics panels attached.
Dimensions of each system are: height 2740mm; width 2235mm; depth 1000mm
Display transport managed by the National Museum; display installed by venue staff
No fee or other charges
Length of display period negotiable
For further information, please contact Ms Sharon Melnik, Exhibitions, National Museum of Australia on (02) 6208 5203.
For a full program of the 150th Celebrations of rail in NSW and the Werris Creek Program see the NSW Railways website http://www.railcorp.info/150years