DVD release - The Bush Music Club - The Early Years (1954-1964)

By Sandra Nixon
Posted Saturday, December 7, 2013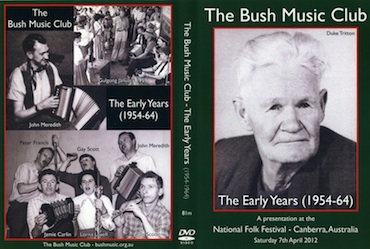 The Bush Music Club is pleased to announce the release of the DVD of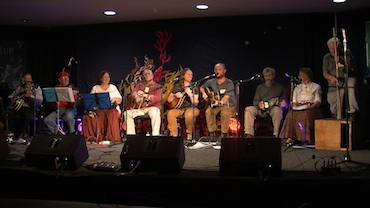 The Bush Music Club - The Early Years (1954-1964) A presentation at the National Folk Festival - Canberra, Australia. Saturday 7th April 2012
In the lead up to the Bush Music Club's 60th Anniversary in 2014, we take you on a trip down memory lane to the days when the Australian folk song "The Drover's Dream" was on the top of the Hit Parade. It all began in 1952 when John Meredith and several friends (aka the Heathcote Bushwhackers) started performing the songs they remembered from their earlier years. In 1953 they joined the cast of Reedy River and contributed to the great success of it's Sydney run. By 1954 the Bushwhackers were so popular that they founded the Bush Music Club to cater for all the aspiring "Bushwhackers", with the aim of re-popularising Australian folk songs and encouraging the composition of new songs contemporary in theme & traditional in style. Within a few years there were Bushwhacker-style bands across the country and Australian Bush Music was born.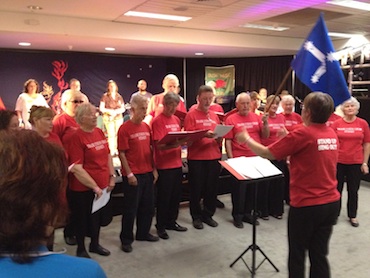 Cast includes Alex Hood, Bill Scott, Bob Bolton, Chloe and Jason Roweth, Chris Woodland, Dave Johnson, Frank Maher, Helen Romeo, Margaret Walters, Rob Willis, Silvia Salisbury and the Sydney Trade Union Choir. Reminiscences from those who were there, songs, tunes, dances plus archival recordings and historic photos help tell the story.
This DVD is available for $20 (including postage)
Please send a cheque made out to 'Bush Music Club' to
Bush Music Club Inc
GPO Box 433
Sydney NSW 2001
The talks from this presentation have been posted on our blog.
photos-
Cast - Wayne Richmond
Sydney Trade Union Choir - Doug Richmond
others - Sandra Nixon