The Two Bees (CD of C J Dennis songs & poems)

Maggie Somerville & Stephen Whiteside
By Stephen Whiteside
Posted Wednesday, December 30, 2015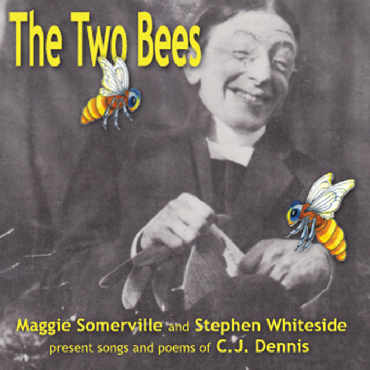 Here are eight songs and four poems from the pen of the Australian poet C.J. Dennis. We have chosen mostly poems by C.J. Dennis that are lesser known, concentrating on those written later in his life when he was writing for Melbourne's Herald newspaper.
The Old White Horse
The Two Bees - An Allegory
The Elusive New Zoo Gnu
The Banana's Lullaby
Black Peter Myloh
Pretty Sally
The Kookaburra
The Ant Explorer
To a Dead Mate
The Dominant Male
How to Hold a Husband
A Song of Rain

We are shining lights under rocks, breathing new life into forgotten gems.

Visit 'The Two Bees' web site. Purchase and listen to 'The Two Bees' on Bandcamp.