Irish Whistle teacher

Sydney
By Pam Merrigan
Posted Monday, March 21, 2005
Pam Merrigan teaches Irish Whistle
- beginner and intermediate
- both individual and group tuition available

One off workshops also available for special events & festivals.
Students require a reasonable quality "D" whistle.
Beginner: Focuses on "getting started" - holding position & getting the notes; breathing, starting and controlling the note; some simple first tunes; breathing in context. Students will also receive a "music survival kit" (page containing some basic music info. & some starter tunes).
Intermediate: For players who have already mastered the basic techniques of getting a sound out of their instrument and already know a few tunes - focuses on "demystifying" jigs & reels; ornamentation and how to build this into the context of a tune.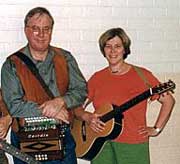 I also have available a tune book with CD "An Seisiun - Cead Poirt" containing a selection of 34 first session tunes for all instruments. Each tune in the book is played twice on the CD. The first time slowly and then a little faster with some basic ornamentaion.
My music studio is located in Normanhurst (Sydney's Upper North Shore) however I will travel for groups, workshops and for festivals, or in special circumstances.
For more information contact Pam Merrigan (02) 9489 5786