Hohner Pokerwork 2 row D/G button accordion

German made 1960s model accordion - $800
By Malcolm Clapp
Posted Thursday, June 9, 2016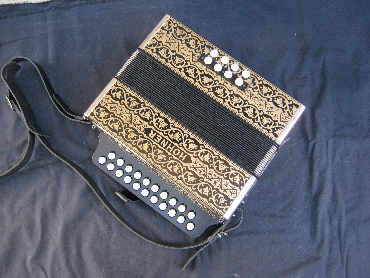 German made 1960s model, but in immaculate cosmetic and playing condition; recently tuned and serviced.
Button 4 start, allowing a complete octave of low notes in both keys below the usual range of a D/G instrument.
All leather straps are new, and the action has been lowered and under-felted to reduce travel.
Happy to post, or pick up from Coffs Harbour area.
Asking price $800
For more information, please reply via email or call me on (0412) 805 436.