Hohner Club II B button accordion/melodeon
(Sold) Hohner Club II B accordion - $750
By Malcolm Clapp
Posted Sunday, December 20, 2015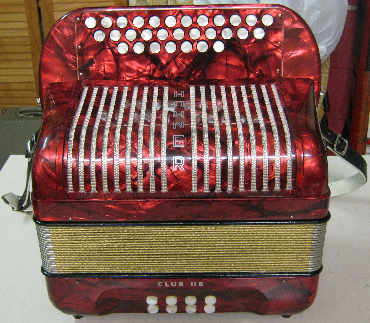 German made, 2 rows of button in the keys of D and G with a short 3rd row consisting of accidentals and reversals.
Two sets of tremolo tuned reeds in concert pitch; the D and G scales start on the 4th button, allowing both scales to be played with a complete octave below the normal start key.
Condition is excellent, showing barely any wear to the body or bellows. All straps are as new, and included is the original case which shows just a little wear consistent with careful usage, but very serviceable.
Asking price $750 ono, including postage within NSW/ACT.
For more information, please reply via email or call me on (0412) 805 436.