Loosely Woven in Frilly Red Pyjamas!

4th-11th December 2005
By Wayne Richmond
Posted Tuesday, December 6, 2005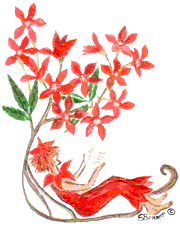 'Frilly Red Pyjamas' is the title of Loosely Woven's 2005 Christmas concert. The expression comes from a little known Denis Kevans/Sonia Bennett song extolling the virtues of the Christmas Bush. In addition to Sonia Bennett's glorious voice, the concert will feature African drumming with the participation of Sydney-based African drum exponent and teacher Mike Almond together with a number of his friends and students.
With nearly 30 participants, this is the largest Loosely Woven concert to date. Instruments will include fiddles, recorders, trombone, concertinas, keyboard and lots of percussion! See the Loosely Woven web site for details of the program.
All Loosely Woven concerts are performed acoustically - no PA!
There will be three public performances:
New Theatre, Newtown
1.30pm, Sunday 4th December 2005
542 King Street (midway between Newtown & St Peters stations)
St Davids Church, Dee Why
7pm, Friday 9th December 2005
(next to the police station)

Avalon Baptist Peace Church
4pm, Sunday 11th December 2005
2 George Street, Avalon
(for Amnesty International)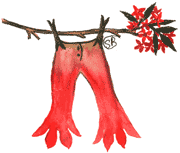 The New Theatre performance will cost $10 (all proceeds towards the New Theatre Building Fund). All of the other performances will be free although donations will be invited. The Avalon performance will be recorded and videoed.
For more information visit the Loosely Woven web site or contact Wayne by email or phone: (02) 9913 7788, (0400) 803 804.