Dan McKinnon at North By Northwest

2pm, Sunday, 25th November 2007
By Jenny O'Reilly
Posted Monday, October 1, 2007
"a phenomenal experience!"
BOOKING IS RECOMMENDED!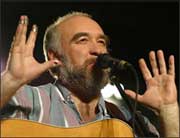 Award-winning singer, guitarist, songwriter and historian Dan McKinnon hails from the Canadian Maritimes, an area rich in the musical and cultural traditions of the North Atlantic. In addition to his many solo performances and recordings, Dan has performed with Symphony Nova Scotia and toured Atlantic Canada and Ireland as part of an International Theatre Festival show about the life and times of Stan Rogers. Dan has also recorded and performed with the pub groups McGinty, and Evans and Doherty.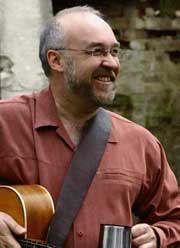 Dan's thoughtful compositions and smooth melodies cover the entire folk spectrum, with themes traditional, historical, contemporary and universal. His warm baritone voice, original compositions and superb guitar arrangements have won this native Nova Scotian widespread praise from critics, club owners, festival organizers and fans. Most recently, on the 9th November, he wowed the audience at Hornsby Folk Club. See review here.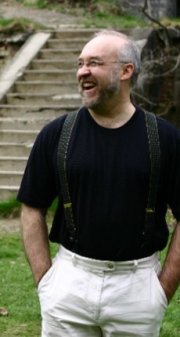 "It was a phenomenal experience .... the audience really let rip .... All in all a wonderful night, Dan's rich voice and warm personality made this an evening to remember for a long time." - Patricia Early
"Hearing Dan McKinnon for the first time reminds me of the first time I heard Stan Rogers or James Keelaghan." - Rich Warren, Sing out Magazine
"GO AND SEE HIM! I personally guarantee the quality and defy anyone not to enjoy an evening listening to Dan McKinnon!" - Mudcat Cafe
Entry to this concert will be $15 / $12 and BOOKING IS STRONGLY RECOMMENDED! To book, ring or email Jenny.
North By Northwest Poetry and Folk Club meets in The Cornucopia Cafe, and is one of the best acoustic venues in Sydney. Refreshments are available and BYO's are welcome. We also have room for some floor spots!
Cornucopia Cafe
Old Gladesville Hospital
Corner Victoria Road and Punt Road, Gladesville
For directions see this article.
Enquiries:
Jenny/John (02) 9559 3658 (h) or (0414) 903 259
Geoff (02) 9816 0393 (w) or (0421) 582 975
See you there!