Review of House concert with Dan McKinnon

November 2007
By Patricia Early
Posted Saturday, October 13, 2007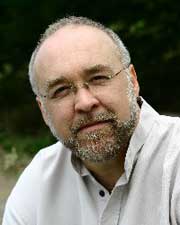 On Friday 9th November 2007. at a house concert in Ryde, the singer songwriter from Canada, Dan McKinnon, performed to a full house. Quite a number of those present were singers themselves and they gave an enthusiastic welcome to this Canadian songwriter on his first ever visit to Australia.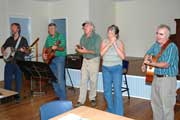 The evening started with a couple of numbers from a local group called Wayward Folk at 8pm then Dan took over and enthralled us for the next hour. As this was his first visit no one knew what to expect. There was this middle aged, balding man standing with his guitar and introducing his first song with a little story about it and then he started to sing, Wow, is the only word that comes to mind to describe it. Such a rich voice and every word clearly heard. The next hour passed very quickly especially as Dan encouraged his audience to sing the choruses with him, and they did. So much so that he said that to get that response in Canada he would have had to use a cow prod! We told him, here it would be impossible to shut us up. He laughed and that set the tone for the rest of the evening.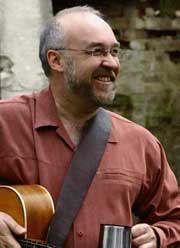 We had a supper break when Dan was very pleased to talk to anyone who wanted to speak to him. After supper he continued with his concert and the enthusiastic audience continued to sing along with his chorus's. Sometimes he gave us the words first but others we just picked up as we went. In addition to his own material he also sang some Stan Rogers songs and the audience really let rip. Near the end of his show he put down the guitar and sang Stan's Northwest Passage. which had been requested. Barry was lucky he had a roof left on his house. It was a phenomenal experience as I don't think there was a person in the room that didn't know the chorus to that as it had been a favourite of the late Dave Alexander's and sung on many occasions.
All in all a wonderful night, Dan's rich voice and warm personality made this an evening to remember for a long time.
Remaining concerts include:
7.30pm, Sat 24th November 2007
House Concert
Lawson
Bookings: (02) 4759 1916
2pm, Sun 25th November 2007
North by Northwest Folk Club
Cornucopia Cafe
Punt Road, Gladesville (Old Gladesville Hospital)
Bookings: (02) 9559 3658