Come and celebrate our 10th Birthday with The Wheeze and Suck Band!

8pm, Thursday, 1st November 2007
By Jenny O'Reilly
Posted Friday, September 28, 2007
This Thursday is a special time for us! In November 1997, North By Northwest Poetry and Folk Club opened its doors for the first time! We started off in the North Ryde Community Centre, but quickly graduated to the church hall next door because we needed more space. Then a few years later, we were very kindly offered the space at the Cornucopia Cafe, with its marvellous acoustics and friendly coffee-shop atmosphere, and we have been privileged to make it our home ever since.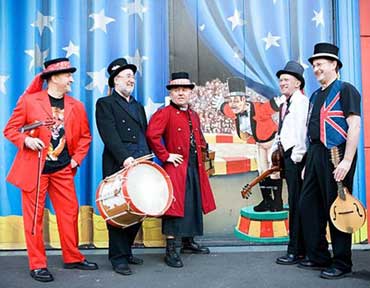 On the second month of our new folk club starting up, in December 1997, a wild bunch of musicians, who played English music with the kind of energy that is usually only heard in Morris dancing circles, and with the evocative name of "The Wheeze and Suck Band" were the first booked performers at North By Northwest. A very lively time was had by all - an airborne cymbal on the night prompting an imaginative poem by Mal Graham, called "Wheeze and Suck on the Rampage at North By Northwest". It was an auspicious start to what has been a great ten years of folk music and poetry at our club.
best entertainment to be had anywhere
Over the years, the lads have performed at North By Northwest many times, pretty much on a yearly basis! Through changes in personnel and an evolving music style which has attracted a growing band of dedicated followers, they can always be counted on to provide some of the best entertainment to be had anywhere in the folk music scene. So naturally, when it came to celebrating our Tenth Birthday, we could not think of a more appropriate way to do it than with our good friends, The Wheeze and Suck Band!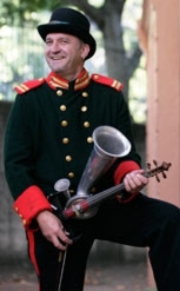 For those who have not yet been lucky enough to catch them, The Wheeze and Suck Band are a five piece group featuring guitars, mandolins, fiddle, melodeon, percussion and vocals, performing an exciting mix of traditional, contemporary and original 'roots' music. These costumed 'mad hatters' sing rousing sounds and soulful ballads in exquisite four part harmony and play high energy instrumental dance tunes which can often lead to audience participation and revelry.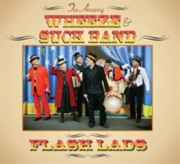 "A Wheeze and Suck performance is an experience not to be missed! Colourful costumes, heaps of audience participation, sporadic outbreaks of dancing, and the occasional foray into the audience mid-song marks a band who lives by its belief that their music is built around a shared experience with their growing legion of supporters. This attitude stretches as far as requests for the audience to join in on instruments!" The Wheezers have a new album "Flash Lads". Visit their website at http://www.wheezeandsuck.com
A festive atmosphere - PARTY!
It will be a festive atmosphere, so make up a table of friends, bring your drinks and nibbles and your sense of fun, and be prepared to sing along, join in with instruments, dance, and generally PARTY!
North By Northwest Poetry and Folk Club meets in The Cornucopia Cafe, and is one of the best acoustic venues in Sydney. Refreshments are available and BYO's are welcome. We also have room for some floor spots!
Cornucopia Cafe
Old Gladesville Hospital
Corner Victoria Road and Punt Road, Gladesville
For directions see this article.
Enquiries:
Jenny/John (02) 9559 3658 (h) or (0414) 903 259
Geoff (02) 9816 0393 (w) or (0421) 582 975
See you there!