The Wheeze & Suck Band

Updated 28th June 2007.
By Geoff Woodhead
Posted Wednesday, September 27, 2006
The Wheeze & Suck Band are a five piece Sydney-based group featuring guitars, mandolins, fiddle, melodeon, percussion & vocals, performing an exciting mix of traditional, contemporary & original "roots" music.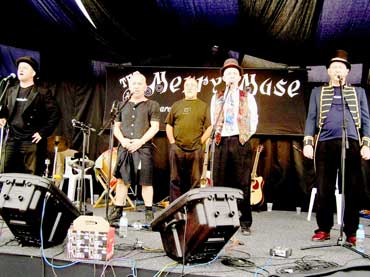 These costumed "mad hatters" sing rousing songs & soulful ballads in exquisite four-part harmony & play high energy instrumentals & dance tunes which often lead to audience participation & revelry.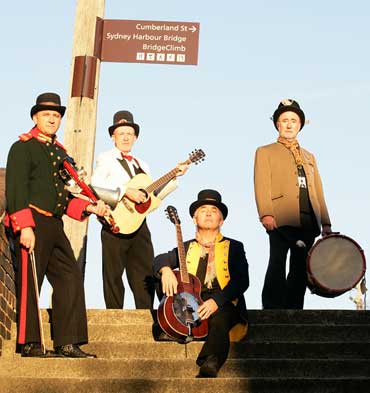 Over the past nine years the "Wheezers" have played at most major Folk Festivals (including Woodford & The National at Canberra) & they are regulars at Folk Clubs from Wollongong & Canberra to Newcastle.
They are also in demand for weddings, parties, corporate functions & other special events.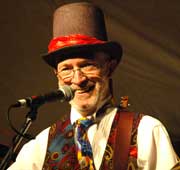 After much demand, in late 2005 the "Wheezers" released their fourth album, "Elsie Marley's Mates", with two of the original songs featured on the album making the finals at the MUSICOZ songwriting awards in 2004/2005. The album is receiving radio airplay in USA, England & Israel, as well as on many stations across Australia. This "hour of power" costs only $25.00 & is available from any of our gigs or by contacting Johnny "Red Tips" Milce, details as below.
LATEST NEWS:
Our new website is up & running so when you have chance, please check it out at www.wheezeandsuck.com .
We will continue to update the gig guide on this page as & when required.
We are part way through recording our next CD, as yet untitled, & are very excited with the results to date; some terrific original songs & tunes plus some different readings of traditional material.WATCH THIS SPACE FOR UPDATES.

The Wheeze & Suck Band are:
Ian 'The Pump' Macintosh - melodeon, guitar & vocals.
Tony 'Pyro' Pyrzakowski - fiddle & vocals.
Johnny 'Red Tips' Milce - percussion & definitely not vocals!
Nigel 'Muddy' Walters - mandolins, dulcimer & vocals.
Geoff 'One Shot Woody' Woodhead - guitar & vocals.
CURRENT GIG DETAILS ARE AS FOLLOWS:
Sat.7th July 2007 at 7pm - The Clarendon, Lurline Street, Katoomba, Blue Mountains.
Contact www.clarendonguesthouse.com.au or 02 4782 1322 for more details.

Sat.21st July at 3pm - Bundanoon Memorial Hall, Southern Highlands.
Contact 02 4883 6588 for more details.
Fri.14th to Sun.16th September - The Turning Wave Festival, Gundagai.
Contact www.turningwave.org.au for more details.
Sat.27th October at 7.30pm - Loaded Dog Folk Club, Annandale Neighbourhood Centre, Johnston Street, Annandale.
Thur.1st November at 8pm - North by North West Folk Club, Cornucopia Cafe, Old Gladesville Hospital, enter from Punt Road, Gladeville.
Fri.2nd November - private function.
Sat.3rd November - Bush Dance in Canberra - details to follow when available.
Sat.8th December at 7.30pm - Almost Acoustic at Eastside Arts, Gordon Street, Paddington.
Contact www.paddingtonuca.org.au for more details.
Sat.15th December - private function.

Look forward to catching up with you at one of these gigs.

Sydney Morris Men: as a by-line, please contact Johnny 'Red Tips' Milce (details below) for information on the activities of the Sydney Morris Men.

Contacts:
John Milce (0418) 656 613 or (02) 9299 6900 (bus)
Ian Macintosh (0413) 998 022 or (02) 9556 8863 (bus)