Sydney launch of NSW - State of Play CD

7pm, Saturday 14th June 2008
By Margaret Walters
Posted Tuesday, April 1, 2008
Folk from Macedonia to Manly . . .
It's no wonder that people get confused about what defines folk music but a double-CD called "State of Play" produced by the Folk Federation of NSW gives a snap shot of the current folk music scene in NSW in all its vibrant, earthy, quirky, prodigious, traditional, innovative, homely, ethnic diversity.

The Sydney launch of this CD is taking place at:
Café Church Space
37 St John's Road, Glebe
(corner Colbourne Ave)

Only some of the 30 artists appearing on the CD will be present but they still represent the kaleidoscopic nature of folk music.
They are:
• Selalu
• Mary-Jane Field
• Tony Eardley
• Lyrebird
• Peter Miller-Robinson
• Kim Sanders
• The Fagans
• Mothers of Intention
Admission:
$10 (or free if you buy the
album
!!)
Light refreshments available.
Enquiries: Peter Miller-Robinson (02) 9332 4471 (0402) 487 883
Bookings: (02) 9698 2206 (0427) 958 788 or email.
The album was released by the Folk Federation of New South Wales to coincide with the National Folk Festival in Canberra over Easter where NSW was the featured state. Information on how to obtain the album is available here.
More information about the artists performing at the launch:
Selalu – Trevor, Kathleen and Tully play an acoustic line up of guitars, bass, mandolin, banjo. They sing in three-part harmony a diverse range of strong and thoughtful original songs drawing upon contemporary, folk and country styles.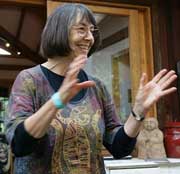 Mary-Jane Field – a bi-lingual singer who grew up in South America. Besides her passion for traditional songs and Latin-American rhythms Mary-Jane writes and sings of contemporary issues like piece workers and RSI.
Skorba – a band formed by Andy Busuttil to represent the cultural history of Andy's homeland Malta. The music reflects the centuries of influence that Europe and the Mediterranean had on the island.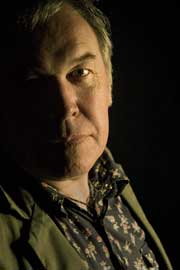 Tony Eardley – a British-born but now Blue Mountains-based singer with a growing reputation for poetic songwriting etched with finely-nuanced observation and tinged with nostalgia. Tony's 2007 debut album Desire Lines has gathered widespread critical acclaim.
Lyrebird – multi-instrumentalists, Pete Doherty and Kate Henshaw, compose songs that are a mix of trad Celtic, pop and country with blues and jazz overtones. Beautiful harmonies, catchy tunes and quality lyrics.
Peter Miller-Robinson – a great guitarist and a riveting performer. Peter's songs cover a range of themes from the personal to a sardonic examination of contemporary customs and contradictions. They are written to stand lyrically, melodically and emotionally even when presented in the simplest of formats.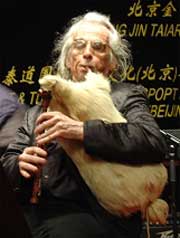 Kim Sanders – world music pioneer who has studied and played in Turkey, Macedonia, Indonesia, Gambia, Greece, China, Bulgaria. Kim plays an inflated menagerie of bagpipes, flutes, drums, saxophone and his performance is both inventive and convincingly idiomatic.
The Fagans – a family steeped in traditional folk music of the British Isles with driving instrumentation and infectious harmonies. Parents, Bob and Margaret, not only bred Kate and James – successful performers in their own right – but have spawned an affection for anglo-celtic roots music throughout the Australian folk scene.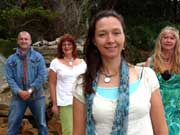 Mothers of Intention – a spirited four-piece Celtic band proficient on vocals, guitars, fiddle, mandolin, recorder, bodhrans and doumbek. They have an extensive repertoire from Irish standards, soulful ballads to fast jigs and reels and slow airs and were winners of the 2007 MusicOz award – Folk/World music category.