Pat Ryan & Ken Howard + Lyrebird @ The Dog

8pm, Sat 29th April 2006
By Sandra Nixon
Posted Wednesday, April 5, 2006
Pat Ryan has been singing in Folk Clubs since she was 15. Since 1990 she has been accompanied by Ken Howard, who plays guitar, bouzouki, cittern and octave mandola.
They have been booked at clubs and festivals in England, Scotland and Australia, including: Sidmouth, Towersey, Fylde and the 2006 National Festival in Canberra. They have appeared on BBC TV and National and Local Radio.
At each club and festival they have appeared at, they have received critical acclaim for the quality of Pat's voice, their arrangements of the songs and their easy manner with the audience. They sing and play traditional material, self-penned and contemporary songs with a traditional arrangement.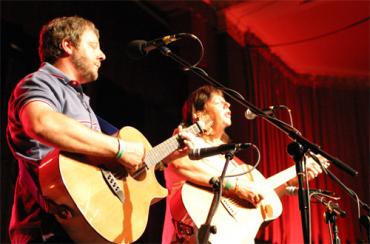 "I'd recommend Pat and Ken wholeheartedly. Pat has a huge voice and Ken is a consummate accompanist; they have a large and very varied repertoire." - Les Barker
Lyrebird
is the name for duo, Kate Henshaw (vocals, blues harp, glockenspiel, keyboard, accordion, recorders) and Pete Doherty (guitars, blues harps, vocals). They share the singing, and describe their music as a mix of trad Celtic, pop and country with blues and jazz overtones. Beautiful harmonies, catchy tunes and quality lyrics accompany their songs.
Beautiful harmonies, catchy tunes
While the two are relatively new to the Sydney folk scene; you only have to hear them play a bar or two before it is apparent that these are highly competent musicians, their presentation signifying decades of experience in a variety of genres.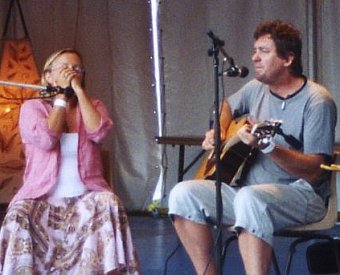 Doors open 7:40 -
show starts promptly at 8:00
with floor acts.
Tickets: $14 ($12 concessions)
For more info contact Sandra Nixon (02) 9358 4886.
Coming up at the Dog . . .