AJ Leonard & Jenny Rowland at Petersham

7pm (for 7.15pm) Wed 29th Sept. 2010
By Ray Gurney
Posted Sunday, July 11, 2010
A.J. Leonard's "Tropical Lounge" tour is coming to Sydney!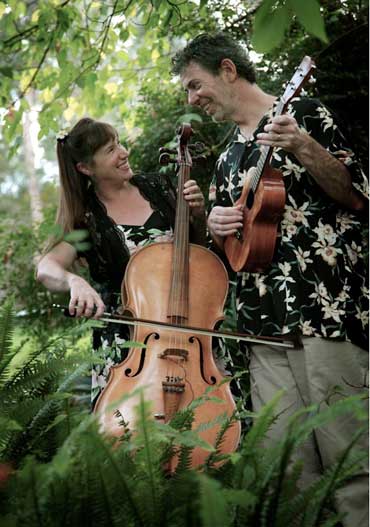 Petersham Bowling Club
77 Brighton Street
Petersham (near swimming pool)
Acclaimed ukulele player and composer, A.J. Leonard is returning for his third visit to Sydney (I think he likes it here!) in the last eighteen months. This time as part of an extensive "Tropical Lounge" tour up the East coast, A.J. will perform in concert with the amazing cello player, Jenny Rowlands, at the Petersham bowling Club meeting on Wednesday 29th of September.
Described as "original and at the same time tantalizingly familiar", his songs and instrumentals are a melting pot of influences: from The Beach Boys and The Shadows to Tin Pan Alley, traditional Hawaiian music, shades of the Orient and contemporary trance. A.J. picked up the humble ukulele many years before the current craze, and now creates "ukulele music for the 21st century", charming audiences with his evocative and captivating performances and virtuosic playing.
Ably supported by lokal Sydney Uke Kouples: Ken Smith & friend (RuffisGutz), Carol Ruff and Mary (The Plinkers), Graham and Jenny (Hoola), Jessica and Ray (Ukidding)
For more info about A.J. and his tour, check out his web site or call (02) 9518 0392
Hope to see you there!