Ukulele Heaven II (Son of)

2pm, Sunday 11th April 2010
By Ray Gurney
Posted Tuesday, February 9, 2010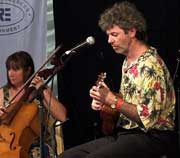 And You Thought NOTHING Was Happening on Sunday 11th of April
Think again!
Ukulele Heaven II
(Son of)
Harp Hotel, Tempe
Commune with Sydney and the Illawarras'
Eclectic Host of Adoring Ukulele Angels, led by (Arch) Mic Conway
Heralding The Sublime:
AJ Leonard and Jenny Rowlands
Fresh And Unsullied, From That HellHole Called Melbourne!
He plays horned and plugged ukes, she, a devilish cello
Come and enjoy the mix!
Including: Mic Conway, Dennis Aubrey, The Shining Wits, Cameron Murray, Hoola, Bracegirdle & McMahon.
Entry: $15 and $12
Good Food in the Bistro Good Bar, where it should be!
AJ & JR also at Illawarra Ukulele Club.