The Rhymer from Ryde

Graeme Johnson - Australian Bush Poet
Posted Monday, July 11, 2005
Graeme Johnson, 'The Rhymer from Ryde' is a wonderfully eargrabbing Bush Poet & 'stretcher of the truth' who has been involved in the folk/country scene for about 10 years now.
His performances are renowned for their vibrancy, humour & heartfelt emotion and in the true larrikin tradition his reciting covers everything from the silly to the serious, Traditional to Contemporary. No slouch with original work either Graeme has amassed over 80 anthologies of prizes for his written & spoken work and has been included in sixteen "Aussie" Bush Poetry.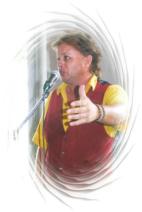 He is also much sought after as an MC in his own right and his standing in the Bush Poet's fraternity has seen him judge at major events like the NSW, SA & VIC Championships. He also conducts workshops for adults & children re writing & performing poetry.
His love of the art has also seen him branch out into promoting Bush Poetry, working for many years now on the committees of festivals such as the Galston & South Coast Country Music Festivals to name a few (organizing their respective poetry functions).
He has been booked to perform at major festivals all over the country including events like the Tamworth Country Music Festival, Man from Snowy River Festival & Maldon Folk Festivals (VIC), National Folk Festival, Brisbane Show & many many more.
The Leonard Teale Memorial Spoken Word Award
He recently won one of the country's most prestigious spoken word awards The Leonard Teale Memorial Spoken Word Award (held as part of the Gulgong Henry Lawson Festival) which carried a $1,000 first prize cheque.
At the end of last year he also won the National Banjo Paterson Writing Award for Bush Verse as well.
He has released two books, two cassettes & two CDs, the latest of which, Lager, Laughs & Lies-Live has just been released on Pat Drummond's Shoestring Records (02) 4788 1157. $25 (plus p&h).