Jess McAvoy — Making Music That's Different, Unique, Important

Jess on her new CD and more . . .
By Sue Barrett
Posted Saturday, July 26, 2008
For Australian singer/songwriter Jess McAvoy, dusk is her favourite time of day — a time when everything slows down, when people come together, when the world feels safe and when the future seems optimistic. And 'Dusk' is also a song from her new CD, As the Sun Falls.
Recently Jess talked about herself and her music…
Tell us about your early life
I grew up in South Perth, Western Australia and spent the first ten years of my life there. Then I went across to Holland for five years. After which I came back to Perth. Now I'm based in Melbourne.
I didn't grow up in a musical environment. My dad can sing — but he doesn't. And my parents didn't have a lot of music in the house when we were kids — although I've got distinct memories of Abba and Billy Joel and Culture Club.
When did you start writing songs?
I started writing songs when I was about eleven. I began writing music basically before I started listening to music. When we were in Holland, I began listening to commercial radio. And I started to tap into music when I was about sixteen or seventeen.
I couldn't live without music
In the beginning, writing songs was never about music, it was more about me finding something that was going to validate me. But that's changed — and I've developed such a passion for music in terms of the creativity of it. These days, I couldn't live without music — I very strongly believe that if I wasn't doing this, I probably wouldn't be alive. I find I don't realise how important music is to me until it's quiet time. I think that we're still developing an understanding of one another — my creative muse and me.
I jot down stuff all the time — but it's very rare that I read back and go, 'That's worth something'. Songs don't really come to me unless I've got a guitar or some sort of instrument. I carry around a digital voice recorder and if I don't have that with me, I've got a voice recorder on my mobile phone.
What led you to take up a career in music?
Part of my personality is always wanting to feel that I'm loved and respected. I had a hard time as a kid — I was picked on a lot at school. And for me the music industry was about fame, recognition, acceptance. Any sort of creative person will tell you that they are incredibly insecure and that was my massive motivating factor when I was younger.
Travelling sucks, it sucks a lot!
How do you cope with the travelling and being away from home?
My very favourite song that I've written recently is 'The Sailor'. I travel so much and the notion of a sailor going off to sea in a big wooden boat and finding new lands, in a romantic universe, that's how I see myself. When you travel, you're discovering strange new things all the time. It's such a privilege, but at the same time when you're away for so long, you miss out on the things that you need the most — things like love and intimacy. And you don't have any consistent gauge of what you're doing and who you are. I find travelling very hard — and initially it was incredibly destructive for me. I get lonely very easily. So I struggle a lot with travelling. Travelling sucks, it sucks a lot!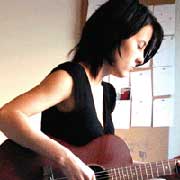 Do you sometimes find that people approach you because you're a musician, rather than because you are you?
That does happen. I get misjudged a lot — I find that some people get the wrong perception of me. And I hear about rumours and that people have been talking about me. People always think that I'm tough, that I'm coping and that I'm strong and that everything is fine. I've got the ability to put a bigger front up, but what that actually means is that there's no buffer between my front and how vulnerable I am. So if you hurt me, it hurts a lot quicker.
What types of venues do you find particularly demanding and/or rewarding?
My favourite kind of performance so far is solo, in an absolutely choc-a-block, packed-out room, upwards of five hundred to two thousand people — on my own, with a guitar. That's my absolute favourite. That is the safest place in the universe for me — 'cause there's just nothing that can harm me at that moment. It's wonderful.
I get nice moments with the band
I'm coming to terms with the fact that, after being solo essentially for most of my career, the majority of my performances these days have to be with the band (bass, drums, piano, electric guitar, acoustic guitar). It's weird playing to a venue of people who aren't really listening — well, half of them are listening, but you can't tell because the other half are talking too loud or are pissed and falling over. But it's cool as well to be able to do something in an environment where you don't feel that you're being over-watched. I get nice moments with the band too — but it takes a long time to develop a relationship with a group of people in an environment like that where you actually do feel safe.
Do you sometimes get to hear your songs on the radio?
Yeah! It's funny hearing your songs on the radio. On the day that I put the single into 3RRR in Melbourne, I got in the car in the evening and the song started playing on what I thought was the CD player, but it turned out to be the radio. I jumped out of the car and ran up to my friend and told her. Then I just sat there listening.
my covers reflect the music quite strongly
Your CD covers are works of art
I'm a very aesthetically driven person and I've always been creative. From when I was really young, I would be up at the crack of dawn with sticky tape and scissors. I'm also a fairly well practised visual artist. I've designed most of the CD covers myself, although for the last two I've specifically gone out of my way to find someone else because it's a bit dangerous being so close to things. I've always been very fond of records that are well thought-out in the design. And I've always tried to make sure that my covers reflect the music quite strongly.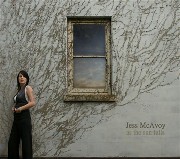 Now tell us about your new album, As the Sun Falls
It's rad! The name of the record comes from one of my favourite songs which I wrote for the album, 'Dusk'. I was in Perth at the time and I became obsessed with taking photos with my mobile phone every time the sun set. I wrote fifty songs for this record, selected sixteen, which were knocked down to thirteen. Each song is individually really, really good — for various different reasons. And there's a selection of styles.
On the new album, there are a lot of moments when I revel in the fact that I can be really good at my craft and that I can create the kind of music that I like to listen to. Although I generally have males instrumentalists, female artists are particularly important to me — the style of music that women write is different, it's unique, it's important. And with As the Sun Falls, I think that I've created a record that mirrors that crucial art.

What are your plans for your record label, Henduwin Music?
I started Henduwin Music so that I had a label for my records — so that they would look more professional. Henduwin is my middle name — my brother made it up. I like that the name is unique and I love that my brother gave it to me. I run the company — but it should be run by six or seven people. My dream is to turn Henduwin Music into something that can help other people too, into a production and management company for other people.
How do you feel about being interviewed?
It's probably my favourite thing! It's the only time that I get to talk at length about how lucky I am with people who know what I'm talking about.
Do you ever perform at folk festivals?
I have played at folk festivals — I've done Woodford quite a lot — which has been fun. But I've never performed at a folk festival in New South Wales and I would LOVE to do that!
Jess McAvoy launches As the Sun Falls at the Northcote Social Club in Melbourne on Thursday 7 August and at the Hopetoun Hotel in Sydney on Thursday 14 August, with her national tour beginning in October 2008.
More info
www.jessmcavoy.com
www.myspace.com/jesmaq
SUE BARRETT is an Australian music writer, with a special interest in women in music.
© 2008