Alison Boyd

Celtic musician - harp, whistle, flute, accordion, bodhran, bouzouki, keyboards, vocals, & dance calling
Posted Tuesday, August 8, 2006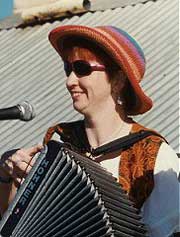 Alison is a classically trained flautist & pianist originally from Belfast who has been living in Australia since 1992.
Specialising in Celtic & Australian music her repertoire expands out to include many other styles including Celtic covers of popular songs.
Alison can provide anything from solo harp, & duos, through to 4 –5 piece bands playing Irish & Australian music (traditional & modern) to get you dancing & singing along.
Alison has performed both nationally and internationally- including Ireland, Europe & the South Pacific, for weddings, parties, festivals, concerts, community events, Irish sessions, amusement parks, cruise ships, private and corporate functions, tourists, fundraisers, bush dances and Ceili nights.
She played harp in Sydney Town Hall at a reception for the President of Ireland, Mary McAleese.
She plays in several bands including:
- Celtic Fire
- Haslam's Creek
- Celtic Dreamtime
- The Bunyip Bush Band
You can hear Alison at:-
the Mean Fiddler Irish bar, Rouse Hill
Sunday 6-9pm leading the Irish sing-a-long session with Celtic Fire,
Wednesdays 7.30-10.30pm traditional Irish session
Alison also conducts Celtic workshops in tin whistle & bodhran. The workshops are geared towards the beginner and those who are trying to improve, although they can be adapted for the more experienced player. They are 'hands-on' workshops and people are encouraged to participate.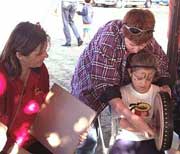 Upcoming gigs:-
see my gig guide
For more information, visit her web site.