Jali Buba Kuyateh

(West Africa) February, 2005
Posted Sunday, January 23, 2005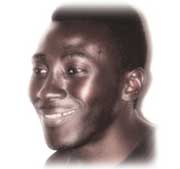 Jali Buba Kuyateh is a world class kora (West African harp) player and singer who captivates his audience from the moment he appears on stage. Jali has been playing kora since the age of five and by the age of ten he had composed three songs. He now has over one hundred compositions to his name.
One of the first things that strikes you about Jali is his passion for his Mandinkan culture. When he plays, Jali is consumed by the music, a smile spread across his face, such that the audience can't help but be swept away and drawn into his world. It is a captivating experience.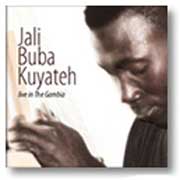 With his soaring voice and the astounding dexterity of his fingers, he is at once rhythmical and melodic as he works his way through complex musical phrases with ease. Jali's rhythm has a distinctive groove which is infectious and his music will impress melodic, rhythmic and vocal enthusiasts alike. Jali can simultaneously improvise on kora and vocals, making each performance unique.
Jali Buba Kuyateh is a captivating performer with exceptional skill and emotional power. He combines florid arabesques on his kora with virtuosic melismas from his voice, that is at times reminiscent of the vocal stylings of Youssou N'Dour, each phrase delivered with a commitment and attack that is truly breathtaking. Added to this is his dynamic range of styles and spontaneous flourishes of improvised passages that can hold an audience spellbound. His is a unique marriage of kora and voice stylings of his region that forges new horizons for the Mandinkan tradition from West Africa. (Doug De Vries – Australian guitar great)
Jali will be joined by his dancer, Bintou Kandeh, who brings even more colour and vibrancy to the show.
This is one performance that should be on everyone's must see list!
Jali Buiba Kuyateh will be appearing at The Cobargo Folk Festival 25th, 26th, 27th February 2005.