Colum Sands

(Ireland) March/April, 2006
By Ray Downes
Posted Thursday, February 9, 2006
Colum Sands, from the famous musical family of County Down, is a noted singer, storyteller, songwriter and broadcaster.
Active on the Irish folk scene since the late '70s, Colum's work is characterised by an inclusive humanity plainly relevant in these difficult times for Ulster. His songs are sung across the folk community from Billy Conolly to June Tabor. A funny man too, as you would expect.
Dates of Inaugural Tour of Australia 2006
17 March Canberra, Merry Muse Folk Club. (0407) 434 469
19 March , Mordialloc, Victoria, Food, Wine & Music Festival, (03) 9581 4729
21 March - 29 March New Zealand Tour.
1 April Adelaide, South Australia, The Folk Centre. (08) 8354 4606
2 April Margate, Tasmania, Brookfield Vineyard. (03) 6272 7648
3 April Bruny Island, Tasmania, Adventure Bay Hall. (03) 6293 1015
6 April Melbourne, Brunswick Festival. Brunswick Town Hall. (03) 93881460
7 April Wollongong, NSW , Illawarra Folk Club. (1300) 887 034
8 April Cairns, Queensland, Tanks Arts Centre. (07) 4032 2349
14-17 April Canberra, National Folk Festival.
19 April Ryde House Concert Bookings: (02) 9807 9497
20 April Sydney, The Harp. (02) 9559 6300
21-23 April Pinjarra, West Australia, Fairbridge Festival.
25 April Perth, The Irish Club,
26 April Fremantle, West Australia, Kulcha. (08) 9336 4544
28 April Hong Kong, Hong Kong Folk Society,
Info.
Email
or call Ray Downes (08) 9335 8741 raydownes@iinet.net.au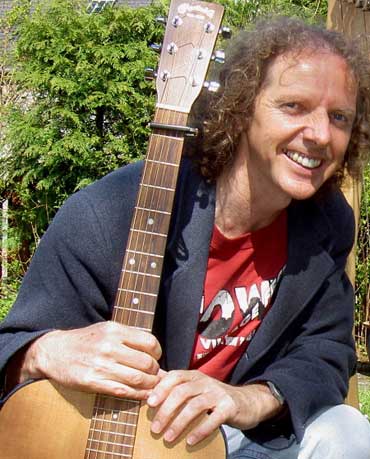 Colum Sands
Songs with stories . . . stories with songs
It could be said that three of Ireland's most time honored citizens, the musician, the poet and the storyteller, all travel together as one, each time singer songwriter Colum Sands sets out on one of his many journeys around the world. A member of the famous Sands Family from County Down, Colum grew up in a house and home where music, story and song was a way of life and it remains so to this day.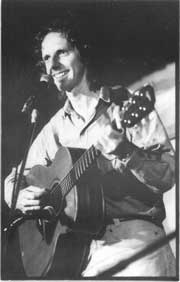 His performances, and indeed his songs, are laced with fascinating and often very funny stories of people lie meets, the kind of people we all know but hadn't really noticed before. Colum's unique style of performance has brought him to thirty countries and into all kinds of musical company on stage and in studio over the years, from Joan Baez and Pete Seeger to the Chieftains and Billy Connolly. In fact it was after hearing him in a Glasgow concert a few years ago that Billy Connolly spoke of Colum's great gift for saying "hard things in a gentle way." There's great warmth in his writing too, and his ability to observe the local scene and turn it into a universal picture has helped songs from his first four albums to turn up in many parts of the world and into the repertoire of artistes including Makern and Clancy, Andy Irvine, Enda Kenny, June Tabor and Maddy Prior. Almost Every Circumstance, Last House in the Street, The Man with the Cap and Whatever you say, say nothing are just some of his well travelled songs on a list that has been growing with the release of his latest highly acclaimed solo album, "The Note That Lingers On".
It's been all of seven years since Colum's last album but The Note That Lingers On, his latest collection, has been worth the wait. All the delicate craftsman.tihip we associate with the man and his music is here, the ability to observe with wonder, compassion and generosity of spirit.
Paul Dromey, The Examiner