Alistair Hulett

(Scotland) Feb-April, 2005
Posted Monday, January 3, 2005
Alistair Hulett is one of Scotland's finest singer/songwriters; an interpreter of the traditional song. Well known to the Australian Folk scene and its many patrons. A truly welcome return, after a prolonged absence.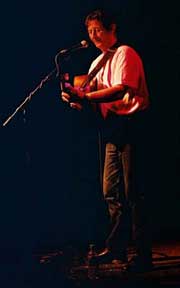 Once again based in Glasgow, he continues to work solo and with Dave Swarbrick. Famous for 3 great workshops "From Blackheath to Trafalgar Square", "The Fire Last Time" and "Red Clydeside", we can only hope that we will have the opportunity to see/hear one of these great presentations.
More information can be found on the NewSouthFolk web site.