Wheeze and Suck Band's New Year Resolution

Changes to Wheeze and Suck band line up
By Ian Macintosh
Posted Thursday, February 10, 2005
December 2004 was a momentus month for Sydney's Wheeze and Suck band. Chief songwriter Ian Macintosh was runner up in the Folk Category of the MusicOz songwriter awards with his song 'Rag and Bone', and the band played their annual Christmas gig at Sydney's Almost Acoustic to a sold out audience. They then headed up to the Woodford festival in Queensland where they had been invited to play over six days, which they did to very enthusiastic audiences.
Returning to Sydney they went into Skylab recording studios to record two new tracks for their new album, the follow up to 2003's successful 'Vincent Street'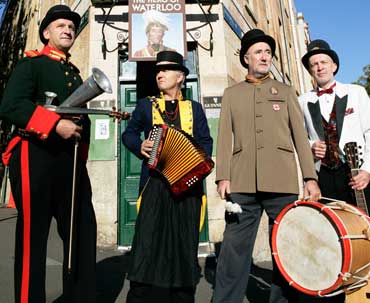 Then they lost two members from their line up of five. One moved overseas, the other retired from the band. Geoff Woodhead, a well known performer on the NSW Central Coast music scene, stepped up and now the band is embarking on a steadily growing booking list with a tighter, trimmed down 4 man line up.
The band is:
Ian 'the Pump' Macintosh – Guitar, Melodeon, Vocals
Tony 'Pyro' Pyrzakowski – Fiddle, Vocals
Geoff 'Woody' Woodhead – Guitar, mandolin, vocals
John 'Bongo' Milce - percussion
"The spirit of roots music is in its shared experience, so our invitation extends beyond just singing along,"
As demonstrated at their first performance of 2005 at the Woolloongong RSL in February, the band has maintained it's energetic and popular mix of old time, traditional and original material. The 'Wheezers' gigs are unusual in several ways. For one thing, they actively invite their audiences to join in with their voices and instruments.
"The spirit of roots music is in its shared experience, so our invitation extends beyond just singing along," states 'the Pump'.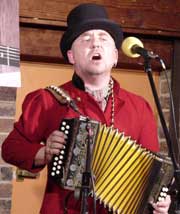 Most striking is their dress sense. The Pump will often sport a lady's dress, whilst Pyro wears a formal suit and Bongo an original Beatles jacket; which he claims, spuriously, to have been once worn by his fellow Liverpudlian, Ringo Starr. And to crown this strange musical apparition, all four heads sport black top hats.
"What we'd really like would be to have a hit record and give up our day jobs. I have written several country songs and some will definitely be entered into competitions this year" enthused the Pump.
Check the Wheeze and Suck Band out next time they perform around the neighbourhood, you won't forget it.
Contact
Or visit the band's web site.