Slightly More Off

Deranged Cabaret for the fun of it!
By Leila Desborough
Posted Sunday, February 1, 2009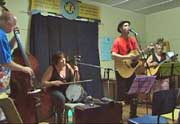 Slightly More Off is a new collaboration of old friends, combining to present a deranged cabaret-style of entertainment. They perform a mix of their own and other people's songs, all with their own special touch. They love to make the audience laugh and keep them wondering what will happen next. Tom Waits and Nick Cave are always hanging around in spirit.
They were so good I burned the Pikelets!!!
Slightly More Off are Carl and Leila Desborough and Frank and Marilyn Russell. Carl plays guitar and sings in a not-too-delicate style while Leila plays an assortment of instruments including the bowed banjo and musical saw, sings and just acts plain silly. Frank keeps everyone in line with his double bass, "Stanley", while Marilyn adds highlights with her assortment of stringed instruments and tries to keep up with Leila's antics.
Quote from well known musician Bill Bekric:
"Who could have guessed that our own home grown people would evolve into the almost unbelievably good act they are. Unique, colourful, musical, funny & slightly eccentric. This all describes Slightly More Off. Comprised of husband & wife team Carl & Leila Desborough (Slightly Off) & joined by another H&W team Frank & Marilyn Russell to make Slightly More Off, this is quality performing. Instruments include banjo (sometimes bowed), mandolin, fiddle, guitar, cowbell, horn, double bass, twangy thing (I did ask & that's what I was told) hand saw & vocals by everyone, it was a huge beginning to The Troubadour 2009. Well Done.
MEMO. To any organizers of folk clubs or festivals who may be on the receiving end of this. They are really a class act who would do well anywhere."