Myriad

Gordon Wallace & Hannah Croke
By Hannah & Gordon
Posted Monday, April 25, 2005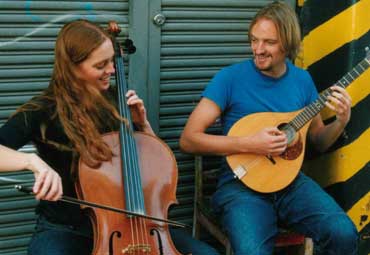 Part of the exciting new generation of folk-acoustica, Myriad are an energetic young duo from Sydney, Australia who draw influences for their original material from folk, blues, bluegrass and gypsy music.
Gordon and Hannah use cello, bouzouki, guitar, mandolin, stomp box, bodhran and harmonica to provide the sometimes sublime, sometimes driving instrumentation behind Hannah's powerfully moving vocals - creating an exciting new sound that is uniquely Myriad.
Hannah Croke
(vocals, cello, bouzouki, bodhran)
A classically trained cellist, in recent years Hannah shifted focus from the quartet to singing at Irish sessions. From there she extended her skills to include bodhran, mandocello and bouzouki to enhance her songwriting and accompaniment and has played in several bands. Hannah recorded her first solo album, 'Monday Edict' in October 2002. She has recently completed her Honors year in the English department at Sydney University.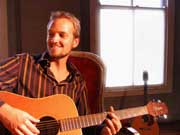 Gordon Wallace
(bouzouki, mandolin, harmonica, guitar, stomp box)
Starting out as a self-taught death metal guitarist and drummer, Gordon evolved to world/folk music via surfpunk and trance. In recent travels around the world he picked up several new instruments and influences and incorporates much of the music he heard and played in that time into his compositions. Gordon currently has his own business as an IT contractor.
For more information visit our web site or send us an email.