Pete Seeger dies at 94

Folk music singer and activist Pete Seeger dies
By Wayne Richmond
Posted Saturday, March 1, 2014
Seeger's grandson, Kitama Cahill-Jackson, says Seeger died on Monday night after being hospitalised for six days.
Seeger gained fame as a member of The Weavers, the quartet formed in 1948 and had hits such as Goodnight Irene.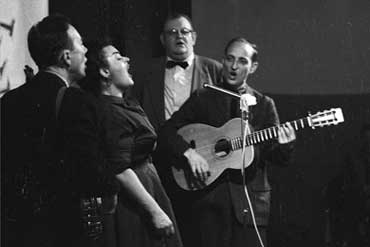 He continued performing & recording for six decades and was still an activist as recently as October 2011 when he marched in New York City as part of the Occupy Wall Street protests.
He was onstage in January 2009 for a gala Washington concert two days before Barack Obama was inaugurated.
But in the 1950s, his leftist politics got him blacklisted & he was kept off commercial television for more than a decade.
With The Weavers, Seeger helped set the stage for a national folk revival. The group - Seeger, Lee Hays, Ronnie Gilbert and Fred Hellerman - churned out hit recordings of Goodnight Irene, Tzena, Tzena and On Top of Old Smokey.
Seeger also was credited with popularising We Shall Overcome, which he printed in his publication People's Song, in 1948. He later said his only contribution to the anthem of the civil rights movement was changing the second word from "will" to "shall", which he said "opens up the mouth better".
"Every kid who ever sat around a campfire singing an old song is indebted in some way to Pete Seeger," Arlo Guthrie once said.
His musical career was always braided tightly with his political activism, in which he advocated for causes ranging from civil rights to the cleanup of his beloved Hudson River. Seeger said he left the Communist Party around 1950 and later renounced it. But the association dogged him for years.
He was kept off commercial television for more than a decade after tangling with the House Un-American Activities Committee in 1955. Repeatedly pressed by the committee to reveal whether he had sung for Communists, Seeger responded sharply: "I love my country very dearly, and I greatly resent this implication that some of the places that I have sung and some of the people that I have known, and some of my opinions, whether they are religious or philosophical, or I might be a vegetarian, make me any less of an American."
He was charged with contempt of Congress, but the sentence was overturned on appeal.
Seeger called the 1950s, years when he was denied broadcast exposure, the high point of his career. He was on the road touring college campuses, spreading the music he, Guthrie, Huddie "Leadbelly" Ledbetter and others had created or preserved.
"The most important job I did was go from college to college to college to college, one after the other, usually small ones," he told The Associated Press in 2006. "... And I showed the kids there's a lot of great music in this country they never played on the radio."
Seeger was inducted into the Rock and Roll Hall of Fame in 1996 as an early influence.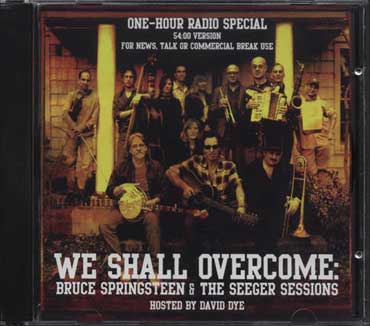 Ten years later, Bruce Springsteen honoured him with We Shall Overcome: The Seeger Sessions, a rollicking reinterpretation of songs sung by Seeger.
While pleased with the album, Seeger said he wished it was "more serious".
A 2009 concert at Madison Square Garden to mark Seeger's 90th birthday featured Springsteen, Dave Matthews, Eddie Vedder and Emmylou Harris among the performers.
Seeger was a 2014 Grammy Awards nominee in the Best Spoken Word category, which was won by Stephen Colbert.

[Adapted from an article published in The Australian]