A personal reflection on the death of Pete Seeger

By Mary-Jane Field
Posted Friday, February 28, 2014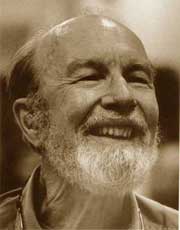 There will be so many of us writing about Pete Seeger and his influence on our music, but I'd like to add a very personal note.
Of the years I spent living in the U. S. A., many of them were, off and on, between l956 and 1975. This was perhaps the heyday of modern folk music, and I feel so fortunate to have been there on the spot and swept up in the music that was being sung and produced at that time by Pete Seeger and others.
During those years I attended live concerts by the Weavers (with Pete Seeger), performances by Joan Baez and Carolyn Hester in Boston coffee houses, and sessions in New York with Jean Ritchie and Bill Monroe. What wonderful opportunities!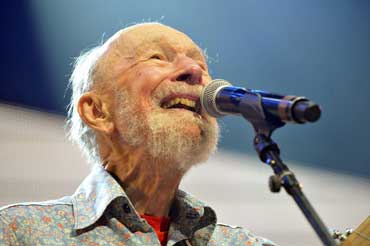 Those experiences changed my life in two ways: They were my first introduction to this kind of music, which I found because Pete disseminated it at every chance, on the radio, TV and in print. I still have an old "Sing Out" full of songs from Pete. Many of those songs eventually became a big part of my repertoire, especially in my work with children.
But this folk song movement also helped change my thinking. I came from a very conservative family background ("Why, Janie, that man singing up there is a communist! ") but I learned through his music that human rights and peace are issues that go beyond politics. It took awhile, but I came to stand up for my convictions, in spite of my family's concerns. I became active in supporting the Lynchburg sit-ins -- just down the road from my university -- and in denouncing nuclear bombs and nuclear energy, and here in Australia supporting the Chilean community and others denouncing dictatorship.
Pete's songs were seminal to this process for me, which is still going on. More importantly, I believe -- no, I know -- that his music was one of the factors that brought an end to the Vietnam war.
I loved the way he brought "Guantanamera" into a wider audience as well as songs such as "Somos el Barco, " connections with my South American background.
So thank you, Pete Seeter, for touching my life. I hope I have given back some of your ideals through my own music.