Review of House concert with Nick Charles

Engadine - 20th June 2008
By Margaret Bradford
Posted Sunday, June 8, 2008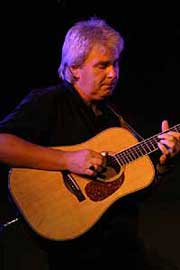 Nick Charles concert was a winner for our June house concert at Engadine. We had a comfortable crowd in a cosy, warm, heated space and a very appreciative audience who didn't want Nick to stop!! And who would? He is certainly an amazing performer, singer and composer. He gets that guitar almost speaking to you with his gentle, laid back style giving us a treat of blues plus a good folky, jazzy mixture.
Allan and I thoroughly enjoyed ourselves as well!
We had people who had never been to a house concert before who came away pleasantly surprised and determined to come again.
A fair bit of preparation and planning but definitely worth it. Being a cold night the soup and other dips and goodies went down well.