House concert with Nick Charles
7.30pm, Friday 20th June 2008

By Margaret Bradford
Posted Sunday, May 18, 2008
A winner Engadine House Concert!
Nick Charles has been a performing and touring acoustic musician for over 20 years on the local and national scene.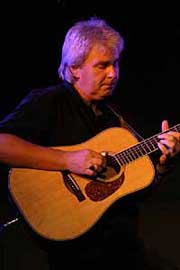 He has performed at the Edinburgh Festival and supported a 'who's who ' of musical visitors to this country from B.B King to Guy Clark.
A winner of the Australian Songwriters Competition and 'Roots Album of the Year' Award, Nick Charles is known for both his instrumental virtuosity and original compositions.
Following a successful and much acclaimed journey through the 'blues scene' both Australia wide and overseas, Nick launched his solo career in 2000 with 'My Place' - a brilliant release according to all reviews and establishing once and for all Nick's standing as an acoustic stylist and composer par excellence!
He has supported big names like Dan Crary and Beppe Gambette, Chris Smithers and Taj Mahal. Now regularly touring Australia wide again, Nick brings to the lover of the acoustic guitar a feel for the traditions and grace of the instrument gathered from more than 25 years of musical experience.
N.B. This concert is on a Friday night, not the usual Sunday afternoon!
Contact: Margaret Bradford (02) 9520 6180 or (0403) 936 785
Cost: $20pp, includes supper (concessions available)