Misa Criolla to packed house

Review of concert at Eastside Arts July 06
By Mary Jane Field
Posted Tuesday, July 25, 2006
Walking in by candlelight, the Cantando Choir made their way to the stage under stained glass lights to begin the Misa Criolla at Eastside Arts in the Paddington Uniting Church on Saturday night, July 15. With a flourish of the bombo drum, the first of the five songs in the choral suite began, to an expectant audience in the packed hall.
The Misa Criolla is a stirring piece of music for choir and soloists written by Argentine composer Ariel Ramirez. The music features South American folk rhythms and melodic themes to create a work of spiritual inspiration which has been popular world-wide since its first recording in 1964.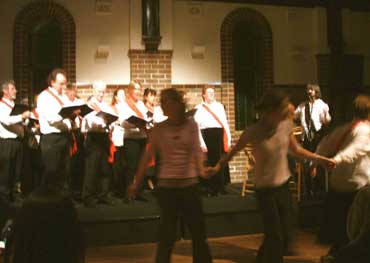 Members of the audience join in with the Cantando Choir for a joyful reprieve of one of the songs.
The director of this Misa Criolla production is bilingual folk singer Mary-Jane Field, who has made a special study of this much-loved music, including time spent in Buenos Aires, Argentina with the original percussionist, don Domingo Cura. The Misa Criolla was accompanied on piano/keyboard by Jane Butler, who has had several years of experience playing the Misa Criolla and who has also been to South America to study the folk music of the region.
"It was wonderful seeing so many people supporting us at our special evening, but we were sorry there were some who could not get in," said Mary-Jane.
second Misa Criolla performance coming up!
"But there is some good news!" she said. "There will be another Misa Criolla performance on Thursday evening, August 31st, at the Alliance Française in Clarence Street, Sydney. So anyone who missed out at Eastside Arts would be more than welcome at this performance."
For more information and for bookings, people can ring 9797-6126. Bookings are encouraged and it is suggested that people arrive in good time because, like the Eastside Arts venue, seating is limited at the Alliance.
Supporting the Alliance presentation of the Misa Criolla will be Patrick Espinoza and Johnny Alvear of the group, Surkarán, with a selection of instrumental music from South America. At the Eastside Arts evening Patrick sang some Chilean folk songs with his wife, Nani, in the second half of the program.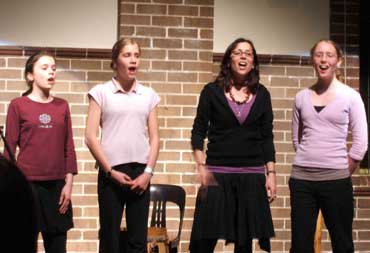 The Westgirls, a group from the Blue Mountains, kicked off the second half. This group of three young teenagers and their mother, Pam West, are best known for their close harmonies and original arrangements of pop and folk songs, as well as music written by Pam.
The Stamperdowns and friends finished the evening with a bracket of a cappella songs. Led by Peter Lehner, the entire audience joined in with an African freedom song, a big finish for an inspirational night.